Australia's most influential children's television personalities
---
Emma Field
2 Nov 2021
Pre-schoolers (and, let's be honest, their mums and dads) were left heartbroken when the beloved Emma Wiggle announced her retirement from Australia's longest standing and most popular children's musical group. When she first donned the yellow skivvy in 2012, many were sceptical about her appointment, some even spelling the end of the musical juggernaut. But the girl with the bow in her hair became the most popular member of the group and leaves a lasting imprint on the Wiggles brand and, more broadly, Australian children's music and television.
Inspired by Emma's legacy, we've looked back at some of the most influential personalities in Australian children's television history.
The Play School cast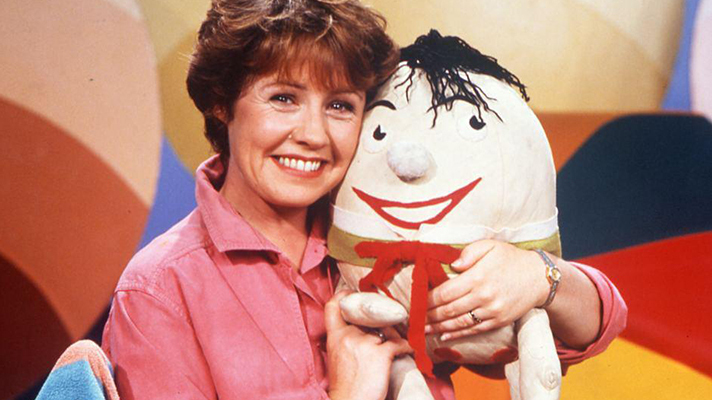 For Australian kids of the 70s and beyond, the names Noni, Benita, John and Simon are as synonymous with memories of early childhood as the sound of Greensleeves through the tinny speaker of a Mr Whippy Van, or the taste of a cold glass of Milo. With their warm, reassuring smiles, enthusiastic roleplaying and love for crafting activities, the cast of Play School and their trusty friends Jemima, Humpty and Big and Little Ted babysat a generation of Australian children after school each day. We explored the world through round, square and arched windows, learned to tell time on rocket and flower shaped clocks, and internalised the lyrics to songs so iconic we'd play them to our own children through streaming services decades later, fondly reminiscing about life on the Ning Nang Nong. 55 years (and 351 seasons) on, Play School continues to educate, entertain and babysit Australian school and preschool aged children, and the legacy of the show's first generation of hosts lives on with a talented cast including Jay Laga'aia, Justine Clarke and Miranda Tapsell carrying the mantle.
Mark Mitchell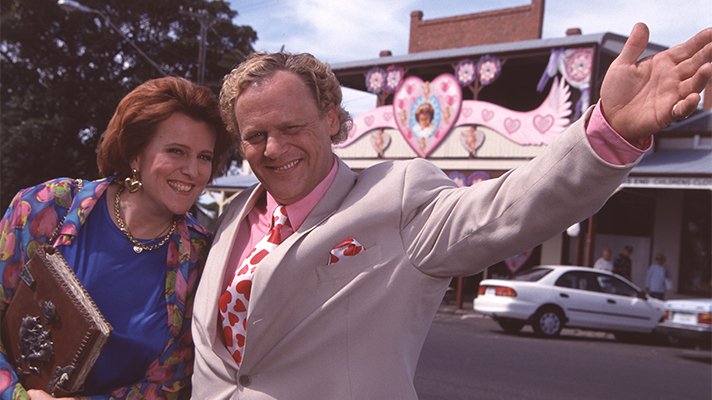 In the 1990s, Mark Mitchell was a cultural icon for adults and children alike. While best known among grownups as the moustachioed Con the Fruiterer, to kids he was the penultimate Australian children's TV villain, playing the antagonist in two of the decade's most-loved shows: Harold Gribble, the scheming real estate agent and nemesis of the beloved Twist family on Round the Twist, and Mr Fish, the angry caretaker who terrorised the children of Lift Off, chastened only by his mum, "Mumsy", who he played himself. Mitchell went on to play ladies' man Otto von Meister in The Genie from Down Under and children who watched the animated comedy series The Flamin' Thongs in 2014 will recognise his voice as Trevor Thong's, the dim-witted and disaster-prone dad of the protagonist, Holden. With his endless range of voices, dominating screen presence, animated facial expressions and flawless comic timing, Mitchell cemented his place in the Australian children's television hall of fame.
Steve Irwin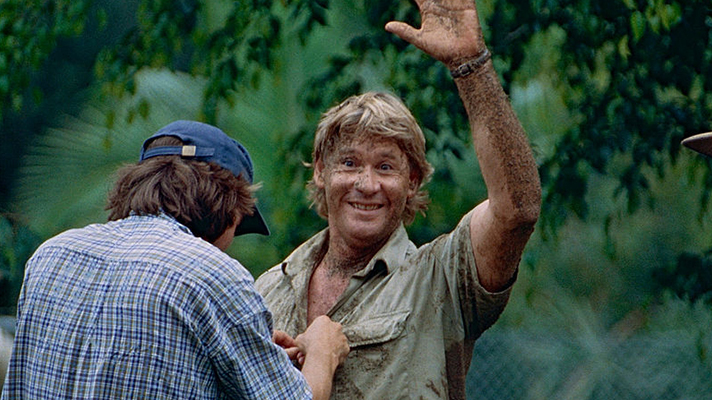 Known for his ocker accent, boundless enthusiasm and khaki shirt and shorts combo, Steve Irwin became a global sensation when The Crocodile Hunter aired in the late 1990s. Not since Paul Hogan threw another shrimp on the barbie in the 80s did an Australian television personality manage to infiltrate the international media landscape so successfully, with his catchphrase "Crikey!" making its way into lounge rooms right across the globe. The zookeeper, wildlife expert and passionate conservationist's popularity overseas was unprecedented among Australian TV hosts, with his show aired in more than 130 countries, reaching 500 million people. Tragically, Irwin died in 2006 aged just 44 after being pierced by a stingray barb while filming a documentary on the Great Barrier Reef, but his legacy lives on through his family and the Australia Zoo in Queensland.
The Wiggles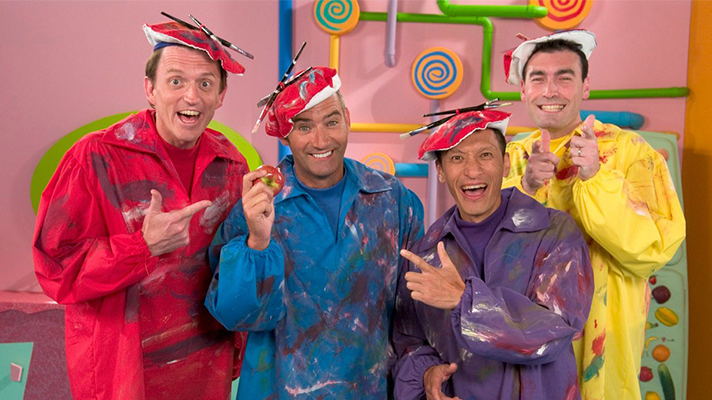 In 1991, a group of four university students studying to become pre-school teachers collaborated to create an album of children's music based upon concepts of early childhood education. Over the course of the next few years, Anthony, Jeff, Murray, Greg and the humble skivvy were catapulted into fame as The Wiggles singlehandedly transformed the Australian children's music landscape. Their videos were rewound and replayed over and over in the VHS machines of young children across the country, spawning a generation of kids (and their parents) who would never again discuss mashed banana, hot potatoes or cold spaghetti without mentally launching into song. The Wiggles went on to crack the US market and their success continued both at home and internationally, but none of the original four members quite won the hearts of children like next generation Wiggle Emma Watkins. With her soothing voice, cheerful demeanour and infectious smile, Emma radiated sunshine and kindness – and it wasn't just the hearts of children on which she left her mark. Emma was an activist, using her platform to raise awareness of endometriosis, and she championed inclusivity by incorporating Auslan into the band's performances and bringing her ballet and Irish dancing skills to the group, helping to popularise the traditionally female dominated pursuits among children of all genders. Her appeal was universal, and her legacy will last a lifetime.
The Heelers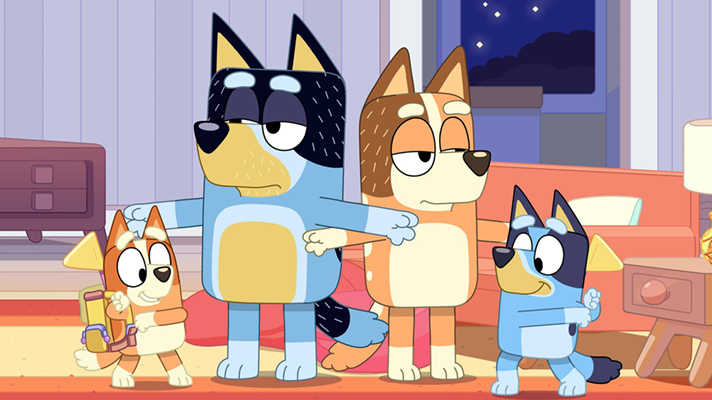 Three years ago, an unassuming animated Blue Heeler and her family was introduced to TV audiences, and the world of imaginative play in Australian households was never the same again. Instead of being discarded after a birthday party, a balloon became a revered object in a days-long game of Keepy Uppy; grandparents across the country were bewildered when their grandchildren demanded they learned how to "floss"; park public toilets were abandoned in favour of bush wees. The adventures of Bluey and her family have won fans worldwide, with parents in the US reporting that their young children have even started talking in Aussie accents. The show's allure lies in its clever depiction of modern everyday family life, which brings magic to the mundane, and its appeal to both the child audience and their parents, who see their own experiences as former backpackers and recreational touch footy players with nappy changing-induced back injuries reflected on screen through Bluey's mum and dad, Chilli and Bandit. With their universal relatability, quintessential Aussie sense of humour and bottomless pool of ideas for imaginative play, we have no doubt the Heelers will maintain their position as one of Australia's most influential children's television families for many years to come.