Goosebumps is back. Why is horror such a popular form of kids' entertainment?
---
Nell Geraets
19 Oct 2023
Originally published in The Age, 16 October 2023
Children are great for scaring adults – ask the creators of The Exorcist's possessed Regan, or those who deploy kids as helpless targets like Eleanor Crain in The Haunting of Hill House. It's less common, however, for horror to be made for children as an audience.
Arguably, the most recognisable kids' horror franchise is Goosebumps, a spooky TV series based on R.L. Stine's best-selling books, which has just been rebooted by Disney+ and Hulu and released on the scary date of Friday the 13th of October.
The return of Goosebumps to our screens after nearly 25 years speaks to the enduring appeal of spooky young content. Why is it that many kids and teens remain hungry for a scare?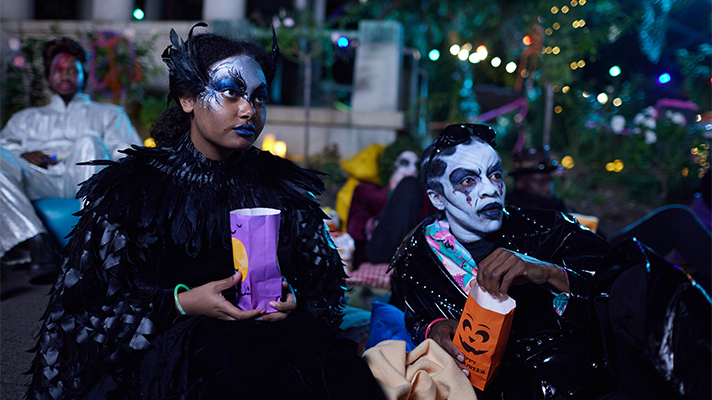 Children have been sharing ghost stories around campfires, learning about monstrous Brothers Grimm tales and reading frightening books for decades, says Bernadette O'Mahony, head of content at the Australian Children's Television Foundation. Scary television is a natural next step, which – if produced with care – can help children navigate taboo topics and those that make them fearful or anxious, she says. For example, the ABC's "gateway horror", Crazy Fun Park, explores death, grief and friendship anxiety while CBBC's Creeped Out explores the dangers of AI and cyberbully
"We're all scared of something – the monster under the bed, for example. Perhaps [watching these shows] can tame the monster," O'Mahony says. "Children deserve the opportunity to explore the dark side … because their lives will inevitably include dark moments."
The Goosebumps remake, starring Justin Long (Barbarian) and executive-produced by Rob Letterman and Nicholas Stoller, follows five high schoolers who begin investigating the tragic passing of a teenager three decades earlier, unearthing dark secrets from their parents' past along the way.
According to some experts, a show like Goosebumps, which combines frightening themes with comedic punchlines, can be a gentle entry point into adult horror. Dr Jessica Balanzategui, an RMIT media and communications scholar who has written about horror-fantasy for children, says this helps young people expand their boundaries and experience thrills in a controlled environment.
"Horror anthologies position the scary themes and effects in a safe space because there isn't an ongoing, serial narrative that deepens the danger with each episode," Balanzategui says. "The horror is contained to and usually resolved within each episode, and is not left as a lingering threat."
For example, the 90s Goosebumps episode, One Day At HorrorLand, features a family that realises they've visited a theme park filled with real monsters who are trying to murder them as part of a game show. However, one of the girls discovers they can defeat the monsters by pinching them. Though most Goosebumps episodes end on a cliffhanger or with a twist (which can expand a child's media literacy), they always contain a relatively ridiculous resolution devised by the children themselves.
"They replicate the experience of gathering to tell creepy stories, to spook each other out around a torch or campfire. But because they're huddled together and laughing about it, the threat is neutralised," Balanzategui says.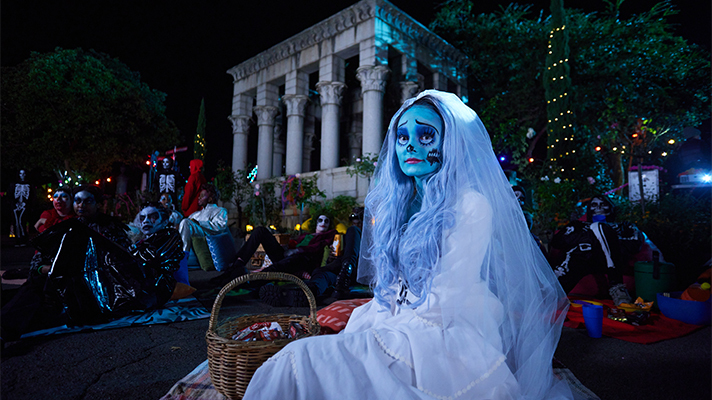 The Goosebumps reboot is not an anthology series, instead it follows one narrative throughout its 10 episodes. However, clinical psychologist David Hawes says it still offers a controlled environment in which young people can develop resilience and work through complicated thoughts and feelings – a process he calls emotional socialisation.
Hawes says it's difficult to decide whether a plot-line is too scary or mature for certain age groups. One 12-year-old may watch the Mind Flayer in Stranger Things (which is classified as MA 15+) and not bat an eye, whereas another may watch something more tame or comedic, such as Round The Twist, and have nightmares.
"Film and TV aren't common causes of emotional problems. When a child reacts more negatively than others of the same age, it's more likely to reflect their own temperament or sometimes an existing issue," Hawes says.
"Parents should look to their child for cues of what they're ready for. Nightmares or intrusive thoughts are an obvious sign that something isn't appropriate. It should also go without saying that no child should ever be forced to watch such content. If a child starts performing ritual sacrifices, I would definitely hide the remote."
However, the onus is still on filmmakers to carefully consider their target audience, O'Mahony says. This generally includes balancing fear with fun.
The Tale of Station 109.1, an episode in Are You Afraid of the Dark? (which features a young Ryan Gosling), follows a boy's discovery of a radio station for the "dimensionally challenged", in other words, a station for the dead. Though it navigates complex themes like the afterlife, it features lighthearted sibling rivalry and an extremely sarcastic DJ, which encourage cathartic laughs from viewers. And of course, one of Goosebumps' most famous villains, Slappy the cursed ventriloquist dummy, is equally witty as he is disturbing.
"We have to be careful as we don't want fun horror viewing experiences tipping over into becoming traumatic," Balanzategui says. "Young kids have a more difficult time discerning where fictional worlds on-screen end and reality begins. But I've often been surprised about what really scares young people. Often it isn't the ghosts or monsters we would expect."
Goosebumps is on Disney+.