Hardball Brings a Skux Edge to the Aussie Accent
---
Lily Pavlovic
2 May 2019
In 2019, kids' TV creators are turning their attention to representation and diversity. With a greater focus on inclusion, the consensus on what constitutes a "traditional" Australian TV accent is changing.
Content creators are now taking into consideration Australia's range of diverse cultural backgrounds, languages and influences from around the world, and demonstrating this in the way characters speak and interact on screen.
New children's series, Hardball recognises the importance of reflecting diversity in language and celebrates it in a fresh, engaging and totally 'skux' way.
Hardball's lead character is Mikey (Semisi Cheekam), a New Zealand boy who moves to Australia. Mikey carries over a range of uniquely Kiwi slang, like "choice" (fantastic or awesome) and "skux" (cool or trendy) to the suburbs of Western Sydney.
As Mikey settles in to his new school, he soon blends his hometown slang with Australian expressions he picks up from friends. His schoolmates introduce him to terms like "fully sick" – a term the Macquarie Word Map pins exclusively to Melbourne and Sydney.
Hardball co-creators, Matt Zeremes and Guy Edmonds wanted the language in the series to feel like a "real" reflection of their local community.
"Western Sydney is a very diverse place – There are people from all walks of life and all different parts of the world who co-exist. We wanted to see [that] diversity on screen," Edmonds says.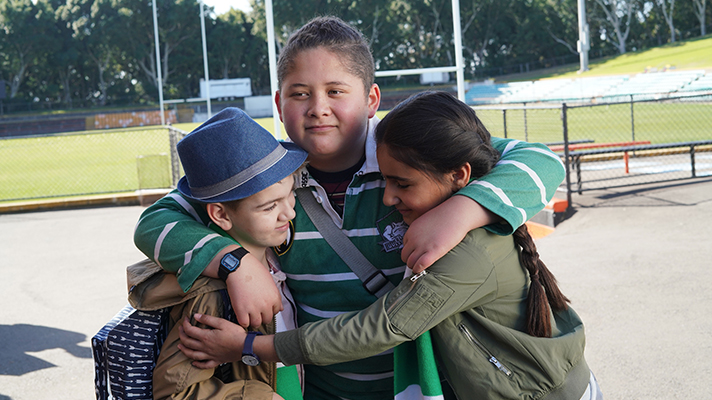 Felicity Cox, Associate Professor in Linguistics from Macquarie University says Sydney is a hotspot for experiencing the many types of Australian English.
"There are multicultural varieties of English…You just have to travel around Sydney to hear all different kinds," she says.
Helen Dallimore, who plays Hardball's eccentric Principal Elect, Mrs. Crapper (pronounced with a elongated 'A') says the series is a great showcase for the diversity of cultures in Australia.
"The show truly reflects the population of Australia back to its audience. I think it's so great that it's doing that for children," she says.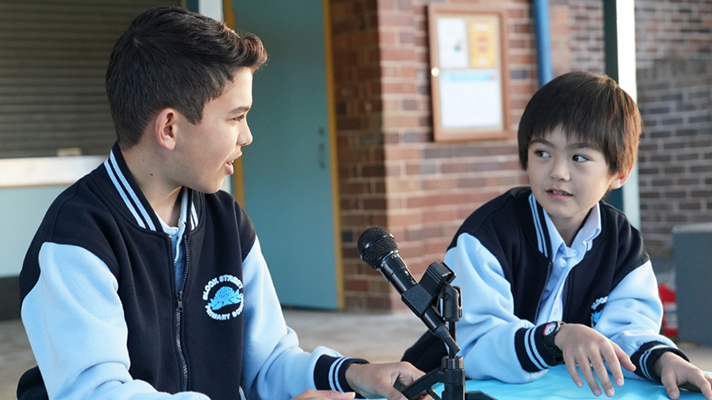 Actress Erin Choy, who plays top handballer and Mikey's competition, Tiffany agrees.
"There's lots of diversity. Tiffany is from an Asian background; Mikey is a Kiwi and Salwa [is] Lebanese. We've got a whole range and I think it's great," she says.
Salwa is one of Mikey's best friends and handball coach. The language she uses throughout the show references her upbringing in a Lebanese-Australian household. Salwa draws upon her experience working in her parents' bakery to invent new slang and ways to express herself.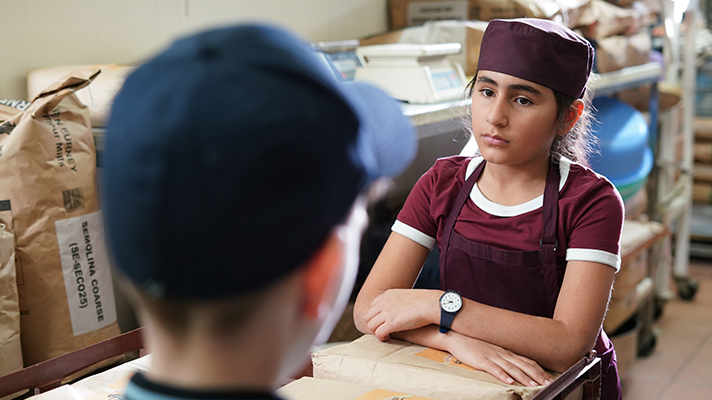 In a scene talking with his father, Mikey explains Salwa's inventive approach:
"You'd be a baklava."
"A what? A sweet pastry?" his father responds.
"Yeah, nah. It's something Salwa says when someone's mean or stupid."
"I like how she manages to swear without swearing."
"Me too. She's got some others – eggplant, pistachio head, garlic face… they always seem to feature food," says Mikey.
For Dr. Howard Manns, Lecturer and Director of the Master of Applied Linguistics at Monash University in Melbourne, Salwa's vocabulary reflects the 'made-up' languages Aussie children create each day.
"[Australian] kids try out new and inventive things with language. For instance, mine decided that 'as a pancake' meant 'very', so not only can you have 'flat as a pancake' for very flat, but also 'cool as a pancake' for 'very cool'. Kids are doing these sorts of creative things all the time," he says.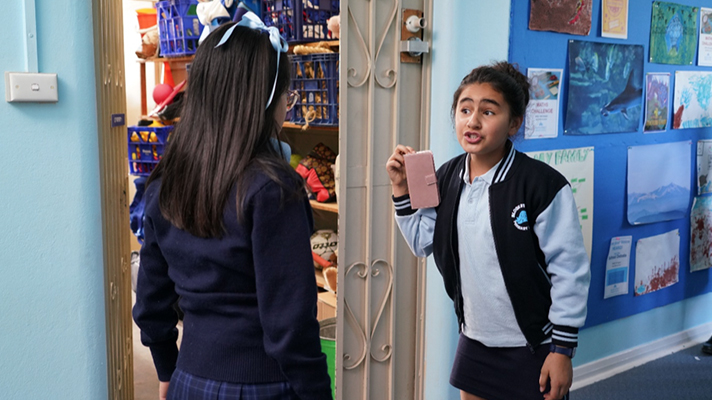 Macquarie University Linguistics researcher, Pam Peters says Australia's movement to embrace cultural influences in our accent is "a measure of our linguistic coming of age."
"For the most part, Australians are relatively comfortable with colloquialisms and ethnic influences in the language; indeed, they expect a more relaxed patter in the general accent, rather than the cultivated accent previously espoused by the ABC."
"A mature dialect is less fussed about differences. As people become more comfortable (with their identity), most can tolerate variation," she says.
Dr. Manns says a greater representation of diverse Australian accents can have global implications. He observes Australian-English accents can be influenced by a range of global cultural backgrounds. But so too can they influence other world varieties.
"When it comes to Australia, language and globalisation, the influence goes both ways. Sure, we're taking some phrases from other places, but we're also sharing some of our own," he says.
Hardball is just one children's series that has introduced the world to Australian accents and idioms. For more than thirty years, kids across the globe have shared the weird and wonderful intricacies of Australia's unique way of speaking. Whether it's "dunny", "ya mug" and "nick off" from Round the Twist, "undies" from Mortified, "minkle" from Little Lunch, or "fully sick" from Hardball, Australia can be relied on for a truly unique approach to language and expression on screen.
The Australian Children's Television Foundation distributes Hardball internationally. For enquiries, please contact our Sales team.