How MaveriX Gained Traction
---
Rachel Clements
1 Jul 2020
MaveriX began as a pitch largely driven by passion. Brindle Films producer Rachel Clements shares how an idea for a show about a junior motocross academy written on a slip of scrap paper developed into action.
I first conceptualised the idea of a show about a junior motocross academy in 2015, largely inspired by my son, Digby. Digby was the under-10 central Australian BMX champion, but, like many Alice Springs kids, he decided he wanted to change to dirt bikes and asked to race in the junior club championships. It was a scary question for me, and it made me realise that kids have many lessons to learn in order to ride competitively in such a dangerous sport. They need to learn about safety and when to pull back from risk; respect for coaches, team mates and your own body; teamwork; maintenance and care of equipment; fair play and sportsmanship; being humble when others are crashing around you; and always keeping an eye out for others around you to make sure that everyone else is ok. Indeed, many of these are life lessons that my son needs to learn in order to develop into a decent man. These lessons and more are all learnt by our characters in MaveriX.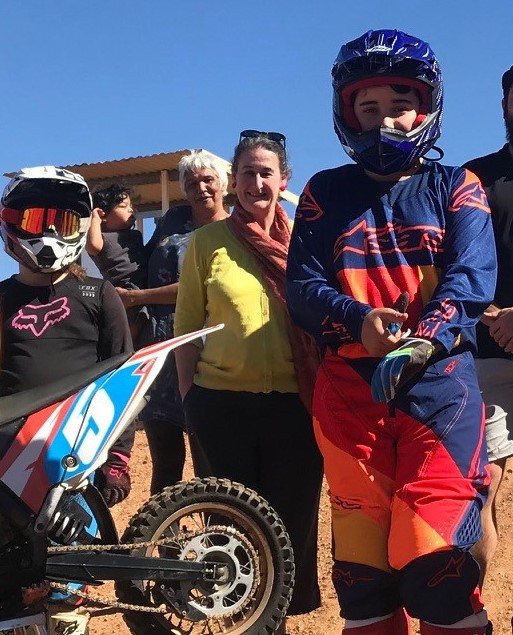 L to R: Brindle Films Producers Trisha Morton-Thomas and Rachel Clements, and Rachel's son Digby.
I really felt that there was an opportunity to create an exciting adventure/drama show set in a dirt bike academy, but I didn't know a great deal about 'the world' of Australian champion junior motocross. Sure, I knew what it was like to take the bike out on weekends but our MaveriX characters ride at an elite level.
In mid-2015, I met filmmaker Isaac Elliott while Brindle was developing our feature documentary on desert motorcycling racing in central Australia – Finke: There and Back. Isaac came into the Finke producing team and I realised pretty quickly that Isaac was able to bring 'the world' of MaveriX to the project. Growing up in a caravan at the Alice Springs Motocross Club, where his father was the caretaker, Isaac competed nationally in junior motocross, becoming a state ranked rider and a nationally accredited training coach. His future was going to be as a professional rider, until he fell off his bike on the Finke track and broke his back. The first thing he did when he left rehab was to buy a video camera and start filming races and he has since become an award winning filmmaker. Isaac is a 'not so secret' weapon for MaveriX and he brings authenticity into the series.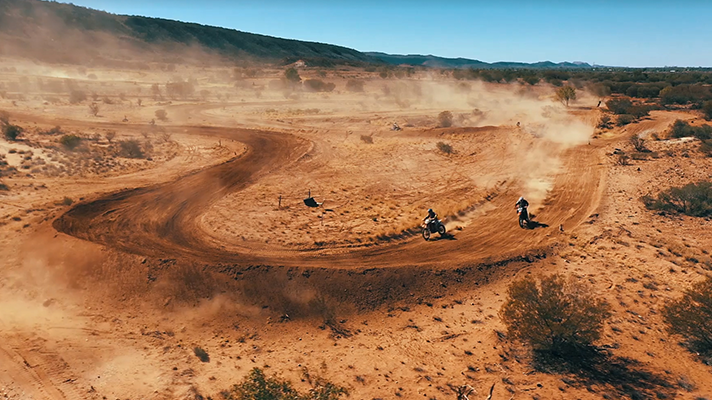 In 2016, we joined forces with writer Sam Meikle, who I have known since we were at AFTRS and who we've collaborated with on a number of projects over the years. We talked through the idea, the characters and the lessons that the characters have to learn (written by me on scrap paper), but then life and other projects got in the way for a while.
In early 2017, I saw Bernadette O'Mahony from ACTF at a function in Melbourne. Bernadette was instrumental in the financing of "Double Trouble" (CAAMA Productions, 2006) and she asked me whether I was working on anything in the kids space. I told her I had an idea and would talk to her about it when fully formed. As I told her then, there wasn't anything written down that we could send her but, the next time I would be in Melbourne, I'd come and see her. It felt like an omen that Bernadette approached me and I was certain I'd return home and put everything that was in my head down on the page.
However, in mid-2017, I was back in Melbourne and I still didn't have anything written down. A colleague – Meredith Garlick – gave me a prod and told me to pull my finger out, so we went to see Bernadette at ACTF. Clutching the original scrap paper in my hand, I cold pitched MaveriX to Bernadette. I was being quite clear on all the things that I thought she might balk at – a) a show skewed towards boys at a time when kids shows were all skewed towards girls; b) dirt bikes/action/stunts; c) an old fashioned action adventure series, set in central Australia; d) a kids series that may be PG and not G; e) and still nothing written down.
That meeting with Bernadette is almost a blur – I remember talking and talking, wanting to fill up any silence with more words – I figured, if I don't have all the nuts and bolts of the stories in my head then I can only win this pitch with passion. So I brought the passion. Being in production of Finke: There and Back at that point, I had all the facts and figures of dirt bike racing in my head – I could name the amount of Facebook followers (compared to football – dirt bike wins), numbers of bikes sold each year, figures of kids competing around the country. I knew the characters because they'd been sitting in my head for so long, so I was able to fill the space with noise. And then, when I had finished my passionate diatribe of the virtues of a kids show set around dirt bikes, I finally ran out of things to say about an under-developed show that I hadn't pitched before.
Incredibly, Bernadette didn't balk at any of the elements I thought she would. ACTF were looking for boy skewed shows, she liked the feel of the show and lessons that the MaveriX kids needed to learn. She didn't seem overly concerned about the potential danger that motorbikes can bring. She had some fabulous thoughts and ideas and I realised that Bernadette (and the ACTF) were prepared to be brave and that they might just give this show a chance at development.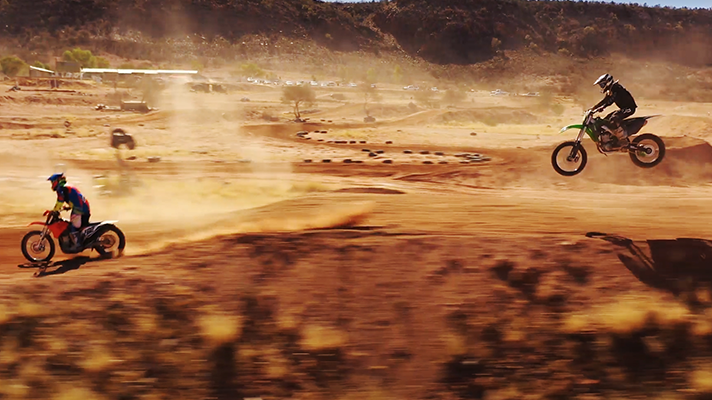 When I returned home to Alice Springs in mid-2017, I reached back out to Sam and Isaac and we finally wrote up our ideas into a short pitch document. Bernadette reached out to Michael Carrington at ABC Kids and talked about the concept and ACTF's excitement about its possibilities. And I then pitched to them in person later in 2017 (still carrying the same slip of scrap paper in my hand for reference). Again, it was a pitch largely driven by passion and my lack of allowing a silent moment to occur. And, again, incredibly, ABC was as interested in the concept as the ACTF were.
In late 2017, we formally submitted development applications to ACTF and ABC and we were on our way. We held our first writers' workshop in Sydney in early 2018. Bernadette and the ABC were in the workshop and we have been incredibly lucky that we found such brave and supportive partners so early on who continue to support and nurture the project. With Bernadette and the ACTF at our sides as Executive Producer, and with ABC showing strong support for the series from early on, we had the confidence to move through development and create a show that we love and believe will reach an audience outside of the kids who ride motorbikes, into a general audience who will fall in love with our characters and their world like we have. Bernadette and the ACTF team have been across all development and financing and worked closely with Brindle from that first meeting. They've been a tremendous ally for MaveriX.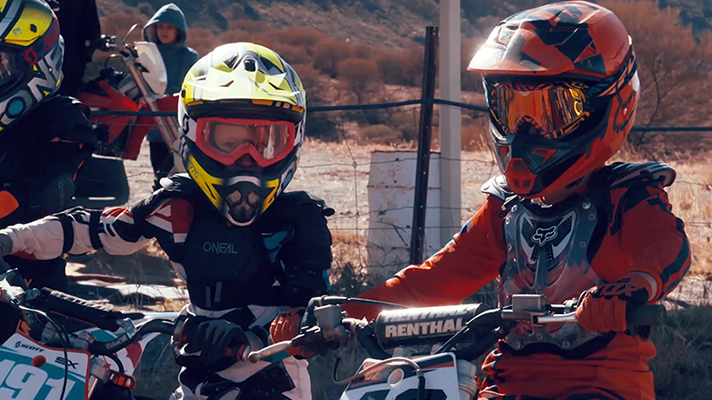 MaveriX is a very personal show for me. I am driven to make it for my son, and for the kids of Alice Springs and other remote, drought-affected areas so they can see themselves and regional Australia on screen. It is a series that showcases family, community, diversity and acceptance, set in a world of action and ambition that we haven't seen before on our screens; and shot in a unique part of the world in Central Australia.
We are so grateful for the support of the ABC, Screen Australia, the Northern Territory Government, South Australian Film Corporation and the Australian Children's Television Foundation.
Produced by Rachel Clements and Trisha Morton-Thomas, MaveriX is a Brindle Films production for the ABC with production investment from Screen Australia, the ABC, Screen Territory, the Australian Children's Television Foundation and the South Australian Film Corporation.