How to Make a TV Mystery: The Case of The Inbestigators
---
Wayne Hope and Robyn Butler
9 Jul 2019
From the outset, we knew that The Inbestigators would be Gristmill's biggest production to date: we were creating a brand new show, with kids, a mystery, and we were making a LOT of them.
The casting process was immense. Nathan Lloyd Casting saw over eight hundred children in order for us to find our four (perfect) leads and our classroom semi-regulars. We auditioned our eventual core cast several times, keen to know whether they had not just the talent, but the wherewithal, confidence – and desire – to make the distance.
There is no quick way to shoot a long running series. Gristmill comedies are snappy; we like our scenes to be fast, which means every fifteen minute episode times out at a twenty-four page script – basically we shot almost ten pages a day for five months. We began filming in winter, on a 2 degree frosty morning. We were still shooting in a November heatwave. Stamina and tenacity were incredibly important tools in making this show – not just for our children, but for our crew.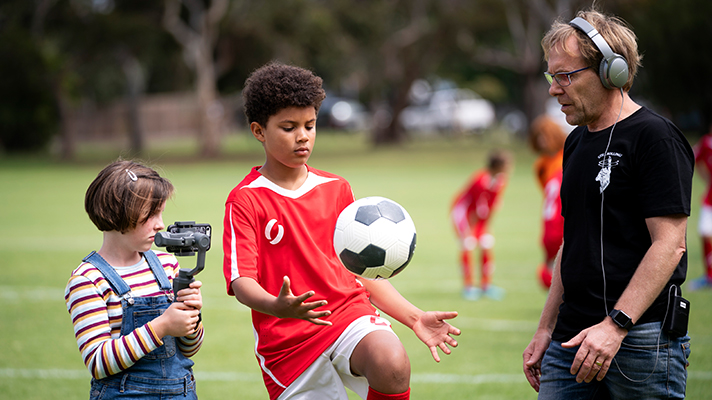 The long production was challenging in its own right but it was working within the parameters of the children's hours that called for absolute resilience. While our productions operate on a ten hour day, our kids were on a strict eight hours, with a ten minute break every hour. Not 'getting the day' was not an option, so every single day required intense focus and determination from the crew. Trying to still shoot ten hours a day – as well as factoring in the children's tutoring – meant we were constantly staggering starts, juggling the schedule and moving locations. We had to be flexible and light on our feet and, not surprisingly, we became extremely adept at using our time cleverly. Our Heads of Department were amazing at rallying their teams and, although we were often exhausted, the mood always remained happy, warm and fun on set. Our adult actors were also remarkable in their ability to work in often harried conditions with patience and kindness. We had specifically cast our four semi-regular teachers not only because of their ability and comic skill but also for their temperament; their generous attitude was a continual delight.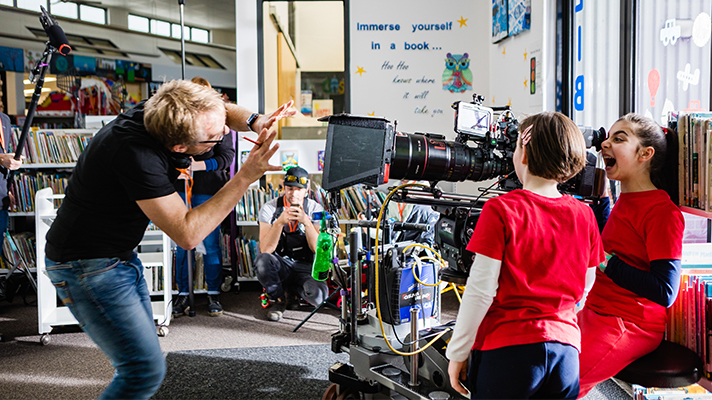 We had planned to build a studio set for our Detective Agency, so that when winter daylight ran out (at four o'clock in Melbourne!!) we could keep working inside, in an environment we could control. We found a space in our Port Melbourne production office for the build, but once we found our wonderful hero school in Moorabbin, we realised the travel time back and forth would be untenable. We knew the only solution was to have the set on the school grounds. Unfortunately, there was no space on the school grounds. With literally no alternative, we came up with a daring solution: to build the set on the staff car park and house it in a semi-permanent marquee. This required us to make a new temporary car park for the staff (we razed a disused playground area), hire a marquee that met all our specifications (we hired an audio engineer to soundproof it from the eight-laned Nepean Highway), and most importantly, convince our crew that we weren't stark raving mad. Happily, the plan worked and our studio set became our much loved home away from home.
A different crime and culprit in every story translates to a new set of characters and often a new location every episode, so we were regularly on the move. Again factoring in the the labor laws, we made sure all our locations were within a five kilometre radius of our school and set so we could easily get back and forth. We were constantly amazed at how quickly the entire circus was able to re-locate. We also tried to cast fifteen year olds as often as possible in guest roles so we weren't restricted by their hours!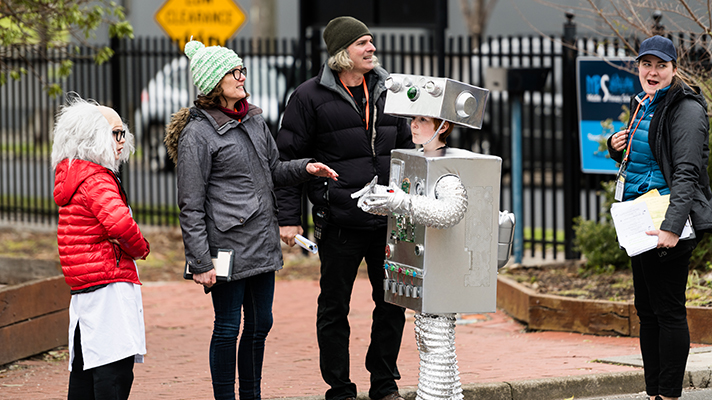 Over the year, we endured every usual frustration of school life: headlice, stomach aches, squabbles, twisted ankles, tears. We also experienced the joys: birthdays, batmitzvahs, ballet concerts and football finals. We were like a huge, messy and wonderful family because, as we discovered, it's impossible to make a show like The Inbestigators and not feel like a family at the other end