Looking Out for the Small Fries: Is it Time to Cut Junk Food Ads in Prime Time?
---
Lily Pavlovic
24 Jan 2018
Commercial broadcasters claim that kids are making the switch from children's programming to adult lifestyle and entertainment TV. Does this mean it's time for a reality check on advertising content during prime time?
Much of 2017's media landscape was dominated by the ongoing tension on the future of Australian children's television between the commercial broadcasters and advocates of locally made children's programming.
During last year's parliamentary inquiry into the sustainability of the film and television industry, the Sydney Morning Herald reported that when Channel Ten CEO Paul Anderson was asked what his network would do with any money freed up by the removal of the children's content quota (a move commercial broadcasters have pushed for), Mr Anderson reportedly said: "we could reinvest it into prime time, into programming that would appeal to a broader audience, including [older] children". He cited MasterChef and The Bachelor – "which I watch with my 13-year-old daughter" – as examples.
To be honest, when I first heard Anderson's statement, I found it quite surprising. I'd grown up in a golden age of 90's television, filled with children's content that was (shock horror!) made for children. The shows I cherished included Round The Twist, The Saddle Club, Mortified and Cheez TV. They all featured kids my age, doing kid-related activities. It was just the norm. So, when I first heard the commercial broadcasters' arguments against investing in similar series, it took some time to wrap my head around the notion that reality dating series could be interesting (or relatable) to Aussie kids.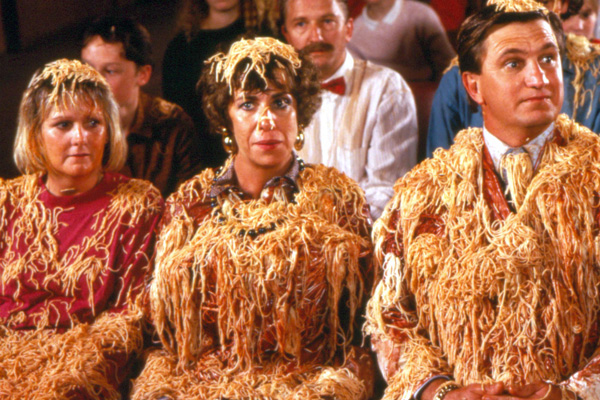 Round The Twist
On further reflection, however, I reconsidered Anderson's original statement. Maybe kids did enjoy these programs, too? Co-viewing with family is something that both kids and adults enjoy. Parents often don't consider the time spent watching together as "screen time", but rather more as a "family-time" period. Not to mention, kids are also diverse and multifaceted – they have wide-ranging breadths of interest, and perhaps (like adults), they enjoy reality TV as a form of escapism from every-day life. The real reality is that in day-to-day life, kids won't need to deal with the troubles of having sixteen girlfriends, or assembling a croquembouche with only 10 MINUTES LEFT TO GO.
I can concede that for the most part, it's all well and good that kids are watching reality TV, if it's their choice to do so. However, if the commercial broadcasters want to move to make reality TV more appealing for their audiences (including children), when it comes to regulating advertising standards, should there not be a duty of care to their youngest demographic?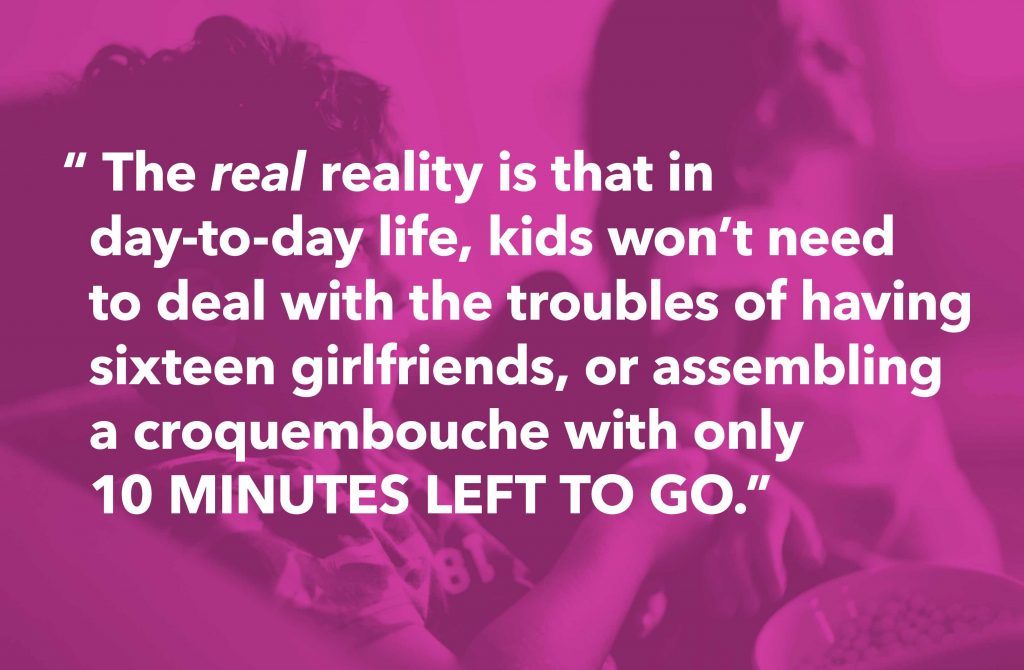 As reported by Choice, a 2017 study by the Cancer Council NSW and the University of Sydney found that Australian children were exposed to an average of three unhealthy food advertisements for every hour of primetime television on commercial networks.
According to findings by ACMA into Australian children's TV viewing habits, between 148,000 and 210,000 children tuned into reality TV programs during 2016. Seven, Nine and Ten aired a combined total of 188 hours of their top primetime series: Masterchef Australia, I'm A Celebrity Get Me Out Of Here, The Block and My Kitchen Rules during 2016. By applying the Cancer Council's study findings, it could be understood that hundreds of thousands of kids aged between 0-14 experienced more than 500 instances of junk food advertising throughout 2016, during these four peak-hour series alone.
Cancer Council NSW's nutrition programs manager Wendy Watson says current rules don't take the number of kids watching television into consideration. In the current TV landscape, kids must comprise 35% of the audience share for the program slot to be considered as airing "advertising to children".
"In Sydney alone, there were…30,000 [children] watching a popular cooking show, but they only made up about 10% of the audience, so a junk food ad in [that] show would technically comply," she told Choice.
The problem in this scenario is that when children and adult audiences suddenly become lumped together, it becomes immensely difficult for child audiences to reach the required 35% audience share. With figures around the 10% mark, kids have to undertake monumental participation in TV viewing, just to be protected by advertising regulations and standards. What will the impact be on children currently watching unregulated primetime advertising?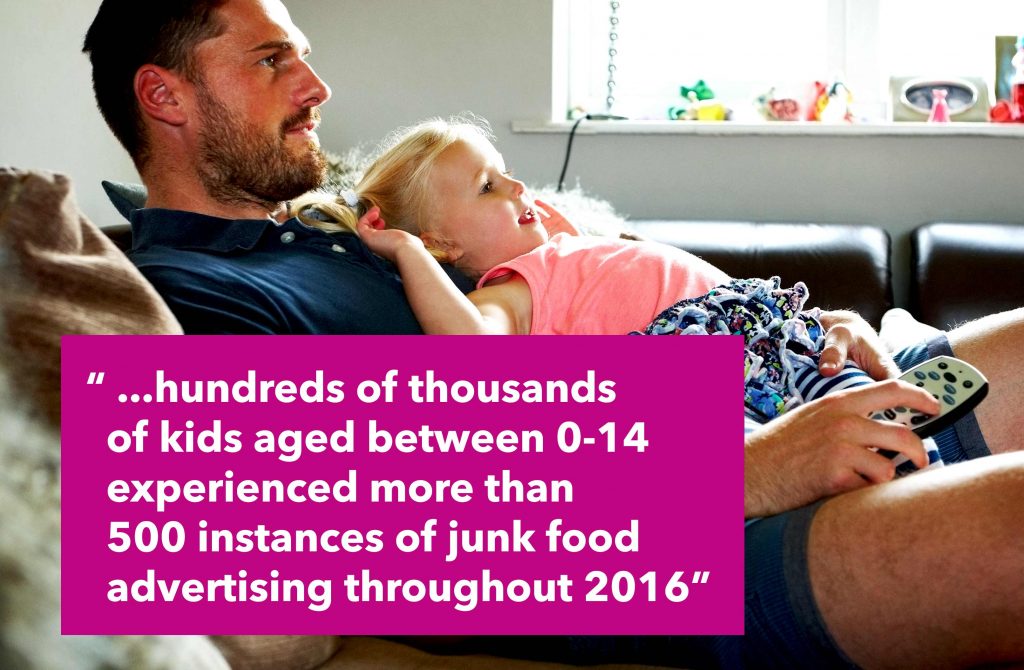 A 2009 study by the World Health Organisation (WHO) concluded that there is modest, yet consistent evidence that food advertising influences food preferences and consumption in children. It also found that there is small, yet significant associations between television viewing, diet quality, obesity and blood cholesterol levels. The Australian Institute of Health and Welfare reported that in 2014-15, one in four Australian children aged 2-17 were overweight or obese.
In the article "Australian Food Industry Hasn't Reduced Junk Food Advertising To Children", Australian not-for-profit organisation FoodTank says:
"The Australian Federal Government, food and advertising industries and free-to-air broadcasters continue to favour industry self-regulation and prescribe personal and parental responsibility for fast-food consumption."
At this point in time, it seems that free-to-air broadcasters want the best of both worlds – they want child audiences to continue watching their channels, but without the responsibilities and protections that kids TV programming requires. On one hand, commercial broadcasters are arguing that the future of programming for Australian children lies in their primetime reality entertainment series. Yet, on the other, little to no measures have been taken to ensure adequate protections against persuasive fast-food advertisements are in place for their youngest audiences during their peak programming times.
Commercial broadcasters, I hope your take away is this: Whether Aussie kids are watching television made specifically to reflect themselves on screen, or sitting down as a family to enjoy prime-time reality entertainment series together, a duty of care to your child audience should remain.
You have the power to set a healthy advertising standard so that children can enjoy your breadth of programming, free from unhealthy influence and pressure. Wouldn't that be a treat?!