Morris Gleitzman on Why Young People Need Stories More than Ever
---
Lily Pavlovic
26 Mar 2018
Beloved Australian children's author, Morris Gleitzman, began telling stories for children via television, before he moved to books. Whether for screen or print, he has always written stories from the heart. Now, he's sharing his love for storytelling, and encouraging young Australians to do the same.
Many Australians remember reading Gleitzman books as a primary school rite of passage, but for Gleitzman, his own childhood remains foggy.
Gleitzman says he can't remember much of his early years. He emigrated with his parents from England to Oz at the age of sixteen, opting to use his imagination to fill in the memories of growing up in the UK. Anyone familiar with his tales of cane toads who make the trek from Queensland to Sydney for the Olympics, might find his British childhood a bit of a surprise!
Since his writing life began in Australia, Gleitzman has preferred to source his storytelling energy from emotions over experiences.
"The parts of my stories that do come entirely from my life are the emotions the characters feel… All we can do is use the emotions that we feel every day. Love, hate, hope, fear, excitement, jealousy, sadness, guilt, joy, anxiety. The characters in our stories may be feeling them for different reasons to us, but they're still the same emotions," he says.
One of the earliest times Gleitzman harnessed these emotions into storytelling was to write his debut children's novel in 1985, The Other Facts of Life.
The story originated as a screenplay for the 1985 Australian Children's Television Foundation series, Winners. It told the story of Ben, whose father tells him the 'facts of life'. Ben refuses to accept the cruel ways of the world, retaliating with much tougher questions, like: why are some people starving? When his Dad can't answer, Ben starts a moving, one-boy crusade to make the world a better place.
Gleitzman's writing tugged at the heartstrings, resonating with both child and adult audiences. The Other Facts of Life was met with critical acclaim. The screenplay received an AWGIE Award in 1985 for Best Original Film Script. The telemovie was nominated for a Banff Rockie Award and won a special jury prize at the Chicago International Festival of Children's Films.
Following the success of The Other Facts, Gleitzman wrote another screenplay, Second Childhood, also for the Winners series. Second Childhood followed the story of Mark and his friends, a group of students who discover they've been reincarnated from famous and important people. They come to the realisation that their former selves are responsible for several of the world's biggest problems. So, they set out to make up for what they've done.
For Gleitzman, these screenplays became a pivotal point in his writing career. Not only did he have the opportunity to write about his favourite topics for children, but it was at this time he realised his passion for writing novels and sharing stories that leave lasting impressions.
"I love writing stories about the time in a young person's life when they're starting to think for themselves… Mark and Annie, two of the main characters in Second Childhood, are just at that stage.
I thought it would be interesting for them to believe that they had lived before as 'somebodies'. That way, I hoped they could discover an idea that has helped me a lot in my own life. That sometimes it's the past that helps us with our future," he says.
So screenwriting was the catalyst that launched Morris into the world of books. Drawing upon his emigration from the UK, he wrote a span of successful series, including Boy Overboard, Misery Guts and Maybe. Closer to home, he partnered with Australian author, Paul Jennings (whose "Un" series inspired the cult TV hit, Round the Twist). Together, they published the ever-popular "Wicked!" and "Deadly" series in the late nineties and early 2000s.
From the move to Australia as a teenager and the constant leaps and bounds of his fulfilling career, one aspect of life has remained constant for Gleitzman: his love for the art of storytelling. His career and passion for storytelling were recognised when the Australian Children's Literature Alliance (ACLA) announced that Morris is the 2018-19 Australian Children's Laureate. In this role, Morris is advocating for the need for Australian stories for Australian kids.
"I've been thinking for many years about the place of stories in our lives and forming the view that young people need stories more than ever. Stories to delight, stories to beguile, stories to move deeply, stories to inspire.
I aim not to be just a laureate, but an ambassador. An emissary from the place where young imaginations draw strength from stories and grow and engage and become our best hope for the future," he says.
Not unlike Australian children's television, which is facing uncertain levels of investment in local content, the Australian publishing sector is also facing the threat of diminishing regulatory protections for its local industry.
Since 2016, the Australian Government has been considering a change to Copyright Law, which would reduce the price of overseas books, at the expense of Australian publishers who struggle to compete against imported content. Opponents of the Government's proposed change are concerned the decision could result in a loss of local jobs and uniquely Australian voices.
In response, Gleitzman wrote a compelling open letter to the Government.
"Every young person has to begin, at some stage in their primary school years, the most important and challenging journey of their life. The journey from somebody else's world to their own world. From the world that belongs to the adults who have nurtured them, to the world, internal and external, of their own dreaming and their own making.

It's an exciting journey, but it can be tough and confusing. Stories about other young people making the same journey can help a lot. But if that's all our kids get – stories from elsewhere, if they don't see anything of their own worlds championed and validated, if the message they get is that nothing from their world is worth putting in a story, how confusing and demoralising and unhelpful and counter-productive is that?

Australian stories are crucial and irreplaceable to Australian young people. Just as American stories are to American young people, Slovenian stories are to Slovenian young people, and so on.

I beg you, as you take steps to increase the productivity of our nation and achieve fair outcomes for consumers, please don't do it in a way that condemns future generations of Australians to childhoods without Australian stories. That would be a tragedy beyond words", he writes.
Gleitzman is vocalising his support for Australian stories in more ways than one. For years, he has been working to educate the next generation of Australians on the importance of nurturing, championing and embracing local stories.
"Stories are the single most important part of a young person's education, apart from teachers. In fact, I'll go further and say that without stories, young people won't nearly develop as much confidence, entrepreneurial spirit, creativity, resilience, empathy, problem-solving ability, imaginative muscle power and skill with words as they will with a rich and varied diet of stories."
Over the years, Gleitzman has visited over 1,500 schools. During his visits, he listens to young Australians as they explain to him the importance of stories in their lives.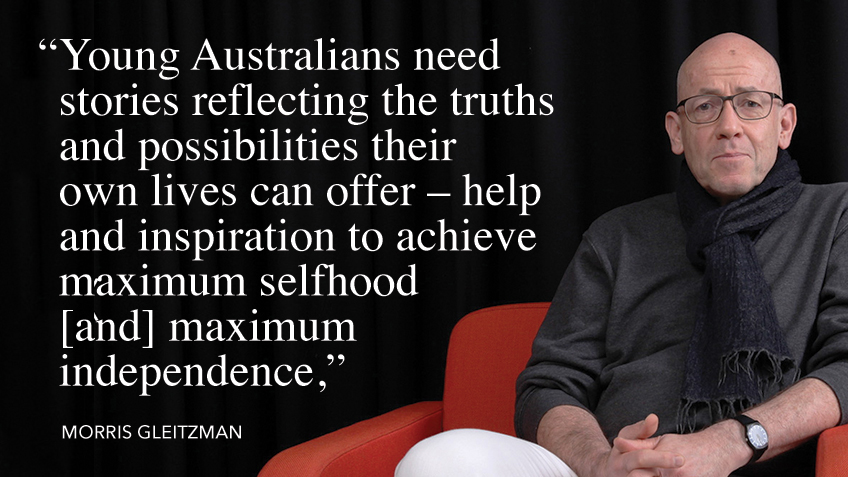 "Young Australians need stories reflecting the truths and possibilities their own lives can offer – help and inspiration to achieve maximum selfhood [and] maximum independence," he writes.
His gift of sharing stories – through screen, through print and through voice – sparks creativity and imagination in the heart of children. Here's hoping that Gleitzman's visits will also spur a generation of thought leaders who will champion and fight for the art of storytelling for years to come.