PauseFest 2017: Where creativity and tech collides
---
Lily Pavlovic
28 Feb 2017
Priding itself on innovation and creativity, PauseFest – ACMI's annual event for all things creative, business and tech, had considered that the recipe to any good conference must begin with feeding the masses. Pancakes are (arguably) the best way to kick off any event, and from that point onwards, PauseFest was off to a flippin' good start.
The day began with a short workshop, to which early-birds could begin their morning with a 3D printed breakfast. Speaker Chris Ly told the crowd that he bought his "pancake bot" on Amazon for $300USD, which (in theory) sounds promising, but with a single standard pancake taking 15+ minutes to create, it showed that there's always room for improvement in tech. This session was a great first taste of what was to come, and (in more than one sense), left Pausefest foodies hungry for more.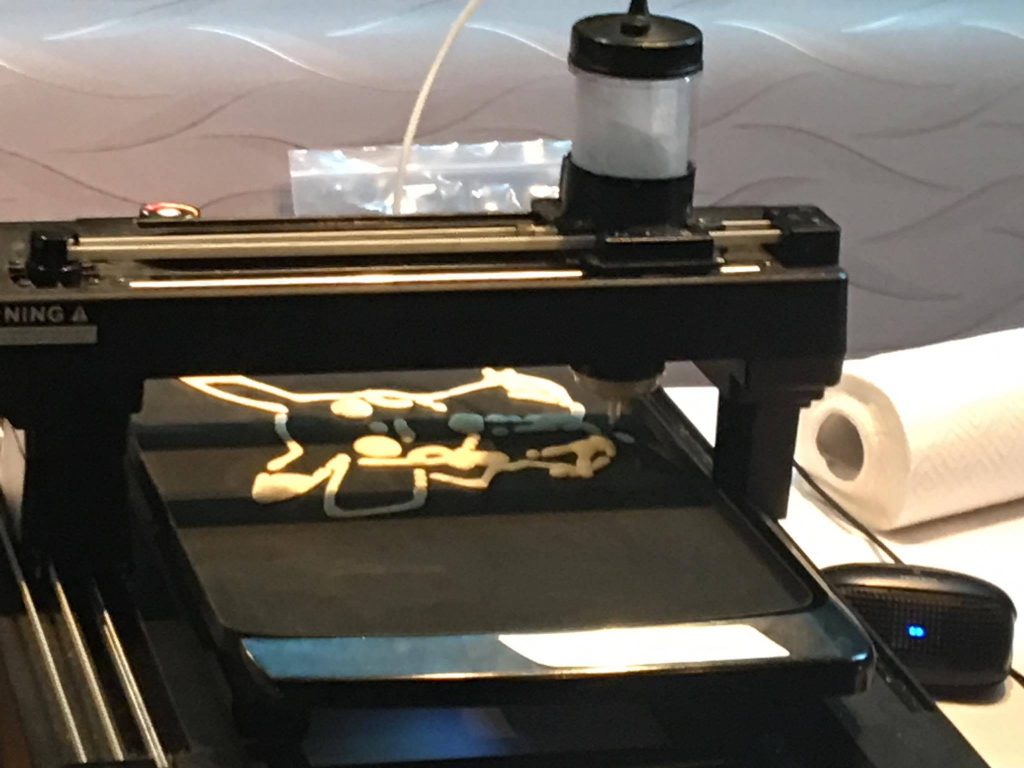 3D printing a Pikachu Pancake in "3D Printed Breakfast" by Chris Ly.
The day progressed with keynote speech "Beyond the Screen" by Magic Leap's Senior Director of User Experience and Interaction Alysha Naples, who spoke on the unintended consequences of developing new technologies. Citing examples such as Microsoft's failed chat-bot "Tay", Facebook's "Fake News" algorithm, and a number of other tech/PR disasters, Alysha reminded us all that technology can be unpredictable, even at the best of times.
This statement on the setbacks of technology served as a premonition for the next presentation. During "Digital Marketing, Why Bother?" technology seemed to take matters into its own hands. The beginning of the panel discussion looked more like Saturday Night Fever than a conference discussion. To the audience (and the speakers) entertainment, the overhead lights began strobing bright flashes of colour, bathing the crowd in a range of fluorescent hues.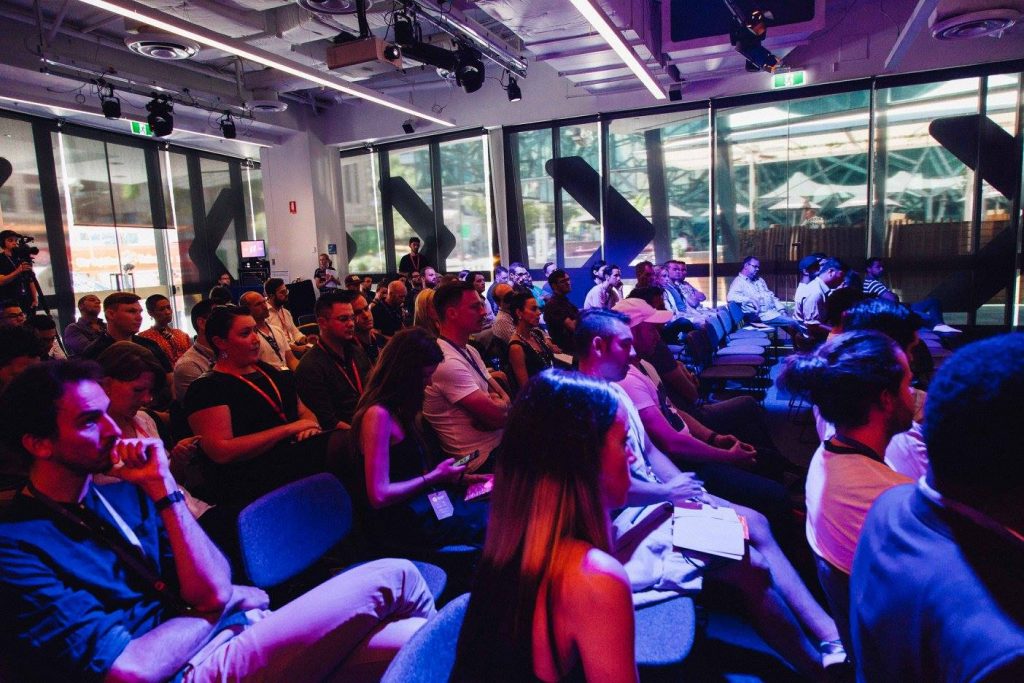 There was disco fever during "Digital Marketing: Why Bother?" by Sarah Piper. Image: Pausefest (Facebook)
The lights interrupted presenter Sarah Piper mid-sentence, as she exclaimed: "I'm going to figure out… if I'm at a disco or not".
Powershop CEO Ed McManus embraced the technical error as a welcome break. "I was happy with the lights because it reminds me of a life without kids," he joked.
The festive mood continued into the highly anticipated keynote "The Science and Art of Characters at Pixar" by Pixar Studio's Brian Green.
During this presentation, the Character Supervisor, credited with the invention of "Sulley" from Monsters Inc, explained the momentous effort animators undertake to create and develop everyday objects into digital worlds. He explained that minute details like animal hair or the suction cups on octopus tentacles are painstakingly animated individually and that each character is invented through a thoroughly creative and collaborative process.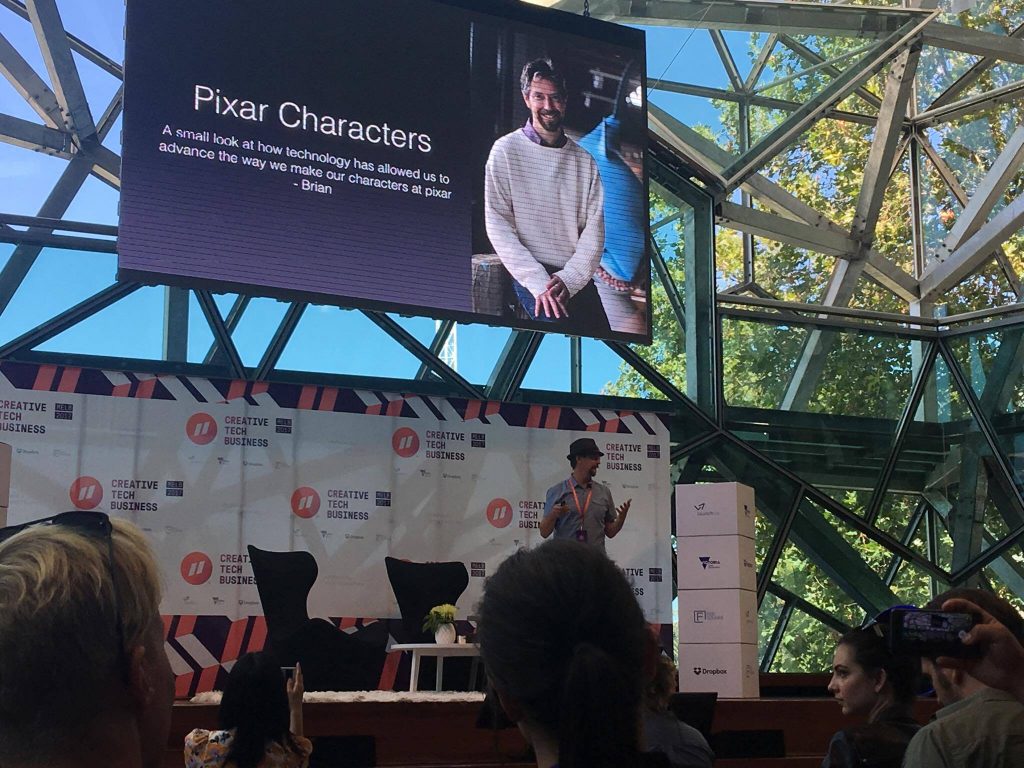 Brian Green talked animation in "Making Characters at Pixar".
What was arguably the highlight of the first day of the conference was a panel discussion for "Women in Tech", a panel fronted by a series of female directors, department heads and CEOs within the tech and creative industry.
There was a no-nonsense tone to the discussion, in which the panellists spoke on the importance for employers to diversify their workplaces and for institutions to encourage more women to apply and involve themselves within the tech sector.
Panellists argued that the entry point for women in technology should go beyond "STEM", and that an emphasis on coding and computer programming is simply not enough.

There was lively debate during "Women in Tech" and our role in the Digital Industries Sector. Image: Pausefest (Facebook)
"I find this whole "STEM" thing really limiting. I think there's a real need to think creatively and apply that in different ways. There's more than a STEM viewpoint and it's better to be creative and ask questions," Fiona Boyd, Founder & CEO of Parent Paperwork said.
The panel also said it was time to break down barriers when it comes to job advertisements and the recruitment process.
"There's a trend lately in overly masculine job advertisements, using words like "badass" and "ninja" that can be a real turn off for women to apply.
"It's not about giving women a hand-up, but making sure the system doesn't push them down," Rebekah Di Blasi, Head of HR at KJR Consulting said.
There was practical advice given for women entering the tech industry, but also for employers to encourage diversity in job applications.
"If you're not seeing women come through your company, look at the system, not at the women," Boyd said.
In a response that left PauseFest attendees wondering whether these events were connected, the session directly after "Women in Tech" was "Marketing in the era of Trump" – and it was attended "bigly" by a full house.
Overall, the festival brought together a range of people. Tech startups, graphic designers, communications specialists and marketers all attended the day to focus on honing their creative skills.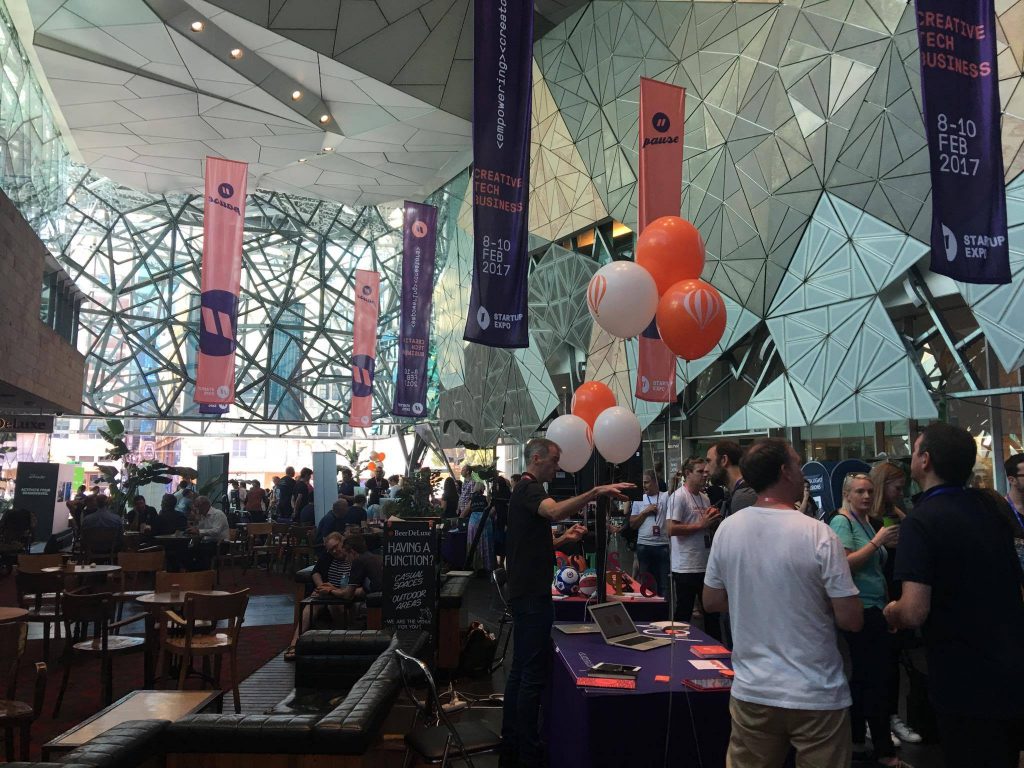 The PauseFest Expo – Creative: Day 1 in action.
The day posed the question: "what is creativity?" At the conclusion of the day, the answer can be summed up best within a variation of a Vanilla Ice classic – the best way to garnering creativity is simply to "Pause – Collaborate and Listen".

Pausefest runs from February 8-10 at ACMI – Federation Square, Melbourne.