The Future of Australian Children's Media
---
Michael Carrington
9 May 2017
The ABC has a strong track record in producing programming for children's audiences; indeed, Play School which celebrated its 50th year in 2016 is the longest-running children's programme in Australia and the second oldest in the world. I happen to be of an age to have enjoyed the first episode as a very young viewer; now I am thrilled to be overseeing the content creation at ABC Children's for future generations of Australian children.
This long tradition of creating children's programmes, and the amount of money the ABC Children's department spends on content, makes it a major force in the children's production industry. ABC Children's also has a strong editorial reputation around the world which makes it a valued international co-production partner and programme acquirer. Above all, we are passionate programme makers who work hard to ensure ABC children's output is for every child in Australia. There are just over three million children under the age of 12 years, and they are a diverse and complex part of our population and merit programmes made specifically for them and from their perspective – 5-year-olds are very different from 8-year-olds, and 11-year-old boys are very different from 11-year-old girls – but they all love to explore, learn and laugh out loud.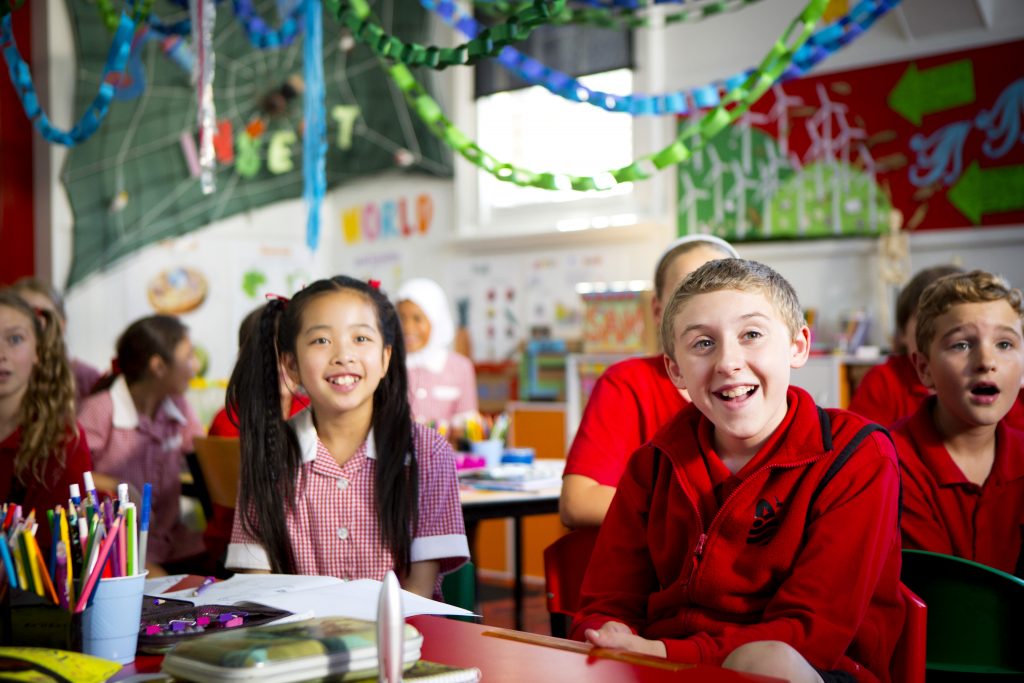 Melanie (Madison Lu) with Battie (Oisin O'Leary) in Little Lunch on ABC ME
Like broadcasters in many developed countries, children's programming at the ABC sits under two brands, one for pre-school children and the other for primary school children:
ABC KIDS promotes learning through original Australian productions, like Play School and Bananas In Pyjamas, to encourage pre-school children to play along and learn with their favourite characters, in a safe, trusted, commercial-free environment. But, we produce more than just TV – ABC Kids is also a website, online platform, and mobile App, with content which can help stimulate a child's development.
ABC ME (formerly ABC3) provides a wide range of high-quality Australian-produced programmes, across all types of genres – from the news to drama stories, and factual entertainment. Targeted at children aged 6-12, ABC ME consists of a linear channel, an online service on streaming and catch-up platform iView, and the ABC ME app, which has been downloaded more than 180,000 times.
Collectively, ABC ME and ABC Kids linear programming reaches 58% of children under 12, and I could argue that these services have brought something genuinely new and distinctive to young audiences across Australia when compared to parallel commercial offerings. We are proud to give children an amazing array of distinctive Australian content – to inform, educate, entertain and inspire. We remain committed to providing content across all genres – content that reflects and celebrates their lives and the lives of their community – and to helping them make sense of the world around them, whatever their heritage. We do this by producing programmes in-house (i.e. on ABC premises) to take advantage of our facilities and resources, and by partnering with independent Australian producers, and sometimes overseas companies.
With the vast majority of the ABC's funding coming directly from Government, and via its agencies such as Screen Australia and the ACTF, the ABC has made a significant contribution to the Australian children's production sector. We are recognised by independent producers and others as a place where new ideas can thrive, free from commercial pressures. For example, ABC Children's has positively contributed to certain genres breaking through with children's audiences, that is, comedy such as Little Lunch, drama like Nowhere Boys and the recent innovative approach in factual programming, My Year 12 Life.

Award-winning series Nowhere Boys
However, we can't rest on our laurels, so we constantly need to adapt and develop our multimedia offerings to ensure we keep stride with the growing expectations of our audiences. With television and video content now available at children's fingertips, the opportunity to view in different places, at different times, on more devices and with emerging technologies has never been greater. This growth in screen and platform choices has started to have an impact on live-to-air viewing.
Certainly, the fragmentation of audiences has meant that the ABC must ride two horses at the same time: continuing to develop programmes for its existing audiences on broadcast television, while innovating to keep up with the growing trend to seek programming on other platforms – all resulting in greater pressure on the ABC Children's resources and traditional production models. This pressure has kept us on our toes, and we are continually challenging internal assumptions in order to create the best conditions to foster creativity and get ahead of the game.
I should emphasise that we simply cannot do what we do without the help of a strong independent production community – where we can tap into even more Australian stories, and technical know-how, and where there is potential to access other sources of funding. At ABC Children's, we have already started to think about 'the future of Australian children's media' and we are engaging with the children's industry; we will be building on our existing partnerships with Screen agencies and independent producers, and finding new connections to help champion a strategy to ensure we have a healthy children's media sector in Australia going forward.
I recognise, however, that the screen production industry is also being put under enormous pressure, due to this fragmenting of audiences, resulting in less commercial opportunities for children's programmes, that is, the reduction of licence fees and potential commercial revenues and less overseas investment. The BBC, where I was previously controller of CBeebies, does an excellent job of investing in UK children's programmes, but they are one of the very few who can now afford to produce high-end children's content. The UK industry has already gone through the changes now facing Australia. Less advertising revenue for the United Kingdom's advertiser-funded free-to-air channels, like ITV, has seen a very significant decline in commissioning of children's content by these broadcasters. As a result, the UK independent production sector has shrunk, leaving a handful of production companies specialising in children's content and huge pressure on the BBC to fill the gap, with no additional funding.
The current situation in Australian commercial television is worrying too, as it feels like the ABC is about to become the only game in town. And, if we are to maintain a strong creative children's production industry, I believe we all need to engage with interested parties to ensure the future of Australian children's content in general. A failure to act now may, dare I say it, lead to us being swamped by British and American programming. While the United Kingdom and the United States produce many excellent children's programmes, our aim has to be to encourage everyone to invest in Australian children's content. We have a job to do to ensure that Australian children continue to have access to great stories and characters that are for them alone and that situate them in their own culture, in order to reflect, engage and inspire them, now and in the future.
This piece was originally published in the May 2017 issue of Media International Australia.