A Voyage through Time: Australian Children's Sci-Fi
---
Holly Tosi
16 Apr 2018
In the last 30 years, our local television industry has told a lot of stories for a lot of kids. From comedy to action, fantasy to sports dramas, there's hardly a genre that we haven't explored in children's television. In our "Genre Studies" series we're taking a look back at some of Australia's favourite series, one genre at a time. We're investigating: what made these shows so appealing to their audience? How has the depiction of childhood changed over time? Do the production designs, the style of writing, the themes and formats from yesteryear differ from today? Is there a particular genre we go to more than any other in our children's series? Or are there genres out there that are prime for resurgence? Let's take a look.
Volume 1: Sci-fi
More so than any other genre, sci-fi series are able to whisk audiences away from their normal lives and transport them to amazing alternative worlds. Sometimes it's not about escaping to somewhere completely new, it's about altering one thing in your normal "school-home-sleep-school-home-sleep" average, routine life; adding just one touch of the impossible and changing everything. This is a pretty cool genre, but after enjoying its peak in the '90s, has been quiet in recent times.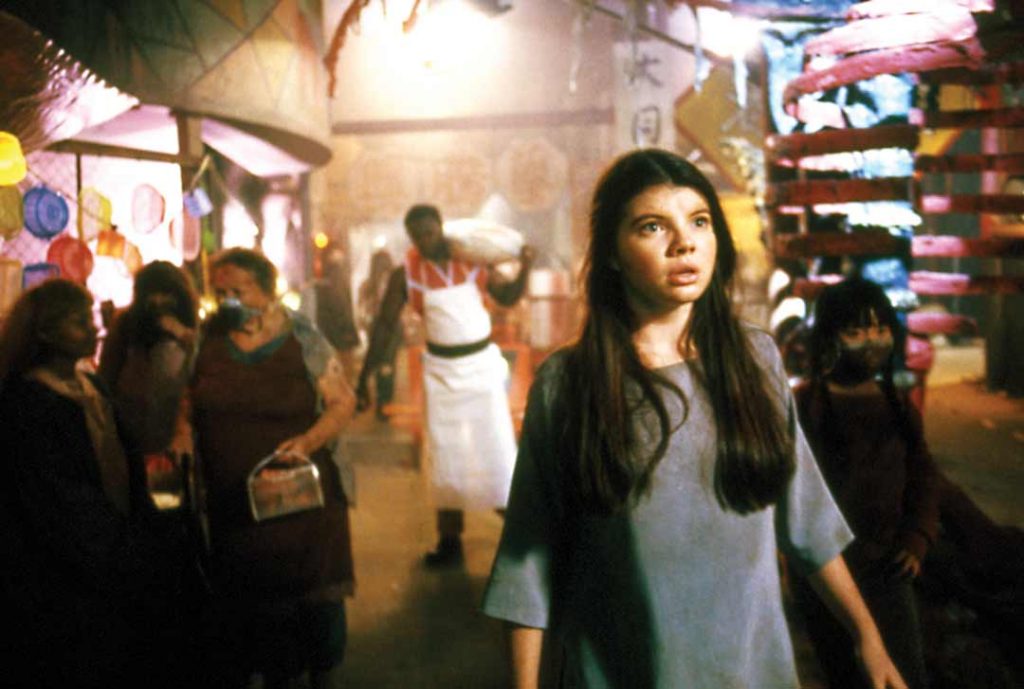 THE GIRL FROM TOMORROW
In 1991, Film Australia embarked on its first sci-fi adventure with The Girl From Tomorrow, in partnership for the Nine Network. The series follows Alana, a 13-year-old girl from the year 3000, who is thrown into 1990s Australia when a time travel experiment goes wrong. With some seriously advanced technology on her side, Alana must overcome warlord villains and repair her time capsule to make it home. Alana's allies on earth are a single parent family comprised of rebellious teenager Jenny, her sci-fi loving little brother, Petey, and their protective single parent and small business owner mother, Irene. There are a few noticeable differences in this classic 90s series. The whole family are involved in each action-packed episode; even Mum gets her hands dirty protecting the new time-traveller in their lives, rather than the children trying to keep Alana a secret. Jenny is only a teenager and despite her often grumpy demeanour, is expected to be responsible with a part-time job that sees her left in charge of the family shop in Mum's absence. The series takes on a serial nature, with episodes ending on cliff-hangers and not designed to be watched out of sequence. The pacing is also much slower than today's audience would be used to, with the first two thirds of episode 1 setting up Alana's home world, which is dominated by adult characters, and only making it to earth in the closing minutes of the episode. The series struck a chord with audiences and picked up a handful of nominations for international awards, before returning for a second series that screened in the UK. Alana and her iconic hi-tech headband, the Transducer, made their mark with many an Aussie child of the '90s.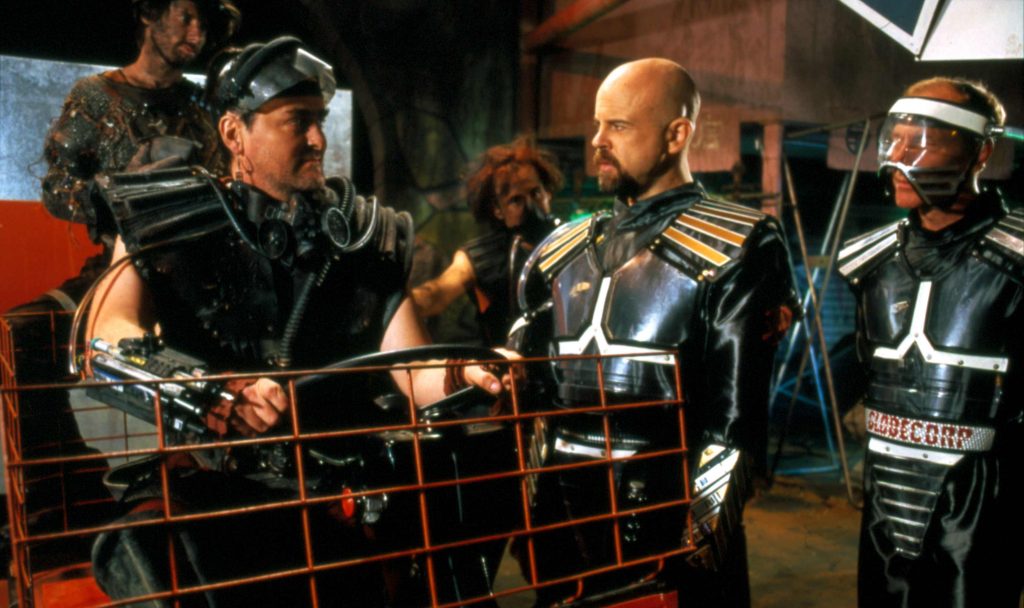 THE GIRL FROM TOMORROW
Aussie kids went to outer space in 1994 with the Escape From Jupiter series, which screened on the ABC. Set on one of Jupiter's moons, the series is centered on a group of kids who must flee their mining colony home when a volcanic eruption destroys the camp. While the parents and adults remain in control, the kids (a mixture of teens and younger children) are driven and empowered. Villainous adults might drive the overarching conflict, but when push comes to shove the kids are on the front-lines driving the spaceships. As was the case in The Girl From Tomorrow, the kids in this series have fun with each other while also wanting to take more on and have responsibilities like their parents. The scale of this show feels big; the colony set up is expansive and the galaxy outside the window makes its mark. Once again, the audience loved this sci-fi adventure, which came back for a second series called Return to Jupiter in 1997. This season gave us more action and adventure, and also a lovable performance from Australian treasure David Wenham, who runs laps after lap around the spaceship 'Icarus' for two episodes as the exercise junkie/crazy genius Dr. Ghrobak. Need I say more?
Elsewhere, another 1994 debut brought sci-fi to tropical north Queensland, opening the doors to a futuristic underwater research facility and becoming an instant classic. It should go without saying that Ocean Girl was a very big deal to Australian children in the '90s. It explored an answer for the "what if?" question that every Aussie kid has thought at one point: "What if we lived underwater?" In a not too distant future, Bates brothers Jason and Brett move into the underwater research facility, ORCA, when their mother is assigned a research project to study whale song. Though their deep sea home, where every hallway is an aquarium, is a pretty unique change of pace, Jason and Brett's worlds truly change forever when they meet the mysterious teenager, Neri. Neri comes from another planet and is the only person of her kind on Earth: she likes eating fresh mangoes, relaxing in her tree-house home above a secret lagoon, and in her spare time she explores the ocean with her best friend. Her best friend just happens to be a Humpback Whale… who she can talk to! This show had a Humpback Whale in it! What kid could say no to that?!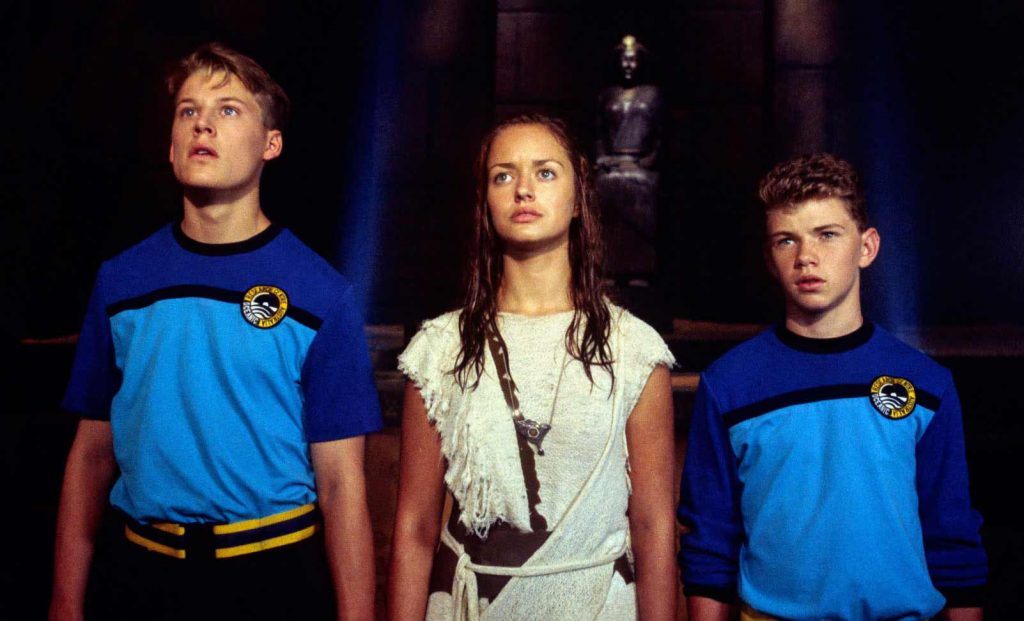 OCEAN GIRL
Much like its '90s sci-fi peers, Ocean Girl's adult characters are active in the stories and everything hangs from the family unit. It's a great cast too, with William McInnes and Kerry Armstrong appearing as series regulars. That said, children are the centre of the show, as the Bates brothers form new friendships with the other kids at ORCA and explore their new world. Again, older sibling Jason is a teenager with ambitions edging on adulthood; he wants to be involved in his mum's research and is empowered enough to take part. On the other hand, Brett is younger, his great wonder and awe for his new home bring life to the first episode and make us excited about this futuristic world. While Ocean Girl feels pacier than others of the time, episode one would likely feel slow to today's audiences. The guided tour of the ORCA facility that wows Brett might lag; veering on too much set up, not enough action. Gone are the days where one holds the biggest jaw-dropping moment for the end of the second act; today's audience needs to be hooked before the clock strikes five minutes. Comparisons aside, this classic series spanned 78 episodes across four seasons and was a mainstay on Channel 10 while making its way around the world, screening in the US, the UK (where it won a BAFTA award in 1998), Canada, Germany, Ireland and many, many more.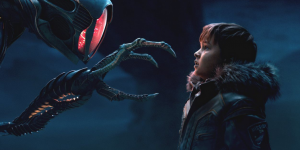 LOST IN SPACE (NETFLIX)
Sci-fi is a fun genre that lends itself to action and adventure, while also getting kids thinking about worlds outside the one they know. It's been a long time since we saw a locally made sci-fi series for children, but for adults this is a genre that has never really left our screens. Stories from a galaxy far, far away will be on the big screen every year for the next twenty years via a little franchise called Star Wars, while Netflix will bring the Robinson family back to television this year for children and families with a high-end re-vamp of Lost In Space. Storytelling that transports kids from their routine worlds for adventures in extraordinary places that they'd never otherwise see? I can see why that would be popular.