Are You Tougher than Your Ancestors? is TV for the History Books
---
ACTF
15 Jun 2020
New live-action series Are You Tougher Than Your Ancestors? provides valuable opportunities for co-engaging in screen content and sharing family stories with kids.

Premiering June 15 on the ABC, Are You Tougher than Your Ancestors? is an immersive living history series that pits the skills of today's kids against the exploits of children from Australia's past to find out how they measure up. Fun and fast paced, the series takes today's kids on a wild ride back through time, where they can learn as much about themselves as they do about history.
University of Melbourne researcher Ashley Barnwell says television shows can play an important role in highlighting the connections between personal and national histories. Using ABC program "Who Do You Think You Are?" as an example, she says: "Exploring time, place, and political context, these televisual representations foreground the emotional connection between researchers and historical documents".

Vanna Morosini, creator of Are You Tougher Than Your Ancestors? says the series encourages children to engage with Australian history in new ways. It also aims to shift perspectives around culture and identity by celebrating the historical exploits of children from Australia's many Indigenous and multicultural communities.

"The series celebrates the shared diversity of our past by uncovering incredible tales about the lives of individuals and communities often absent from our traditional historical narratives. Along the way, we learn about the challenges faced by our first female Olympic swimmers, the bravery and resilience of our young Muslim Afghan cameleers, the skill and dedication of our 19th century Chinese acrobats, the remarkable maritime abilities of Eora fisherwomen on Sydney Harbour and the dazzling ball skills of Aboriginal Parndo (football) players, among many others.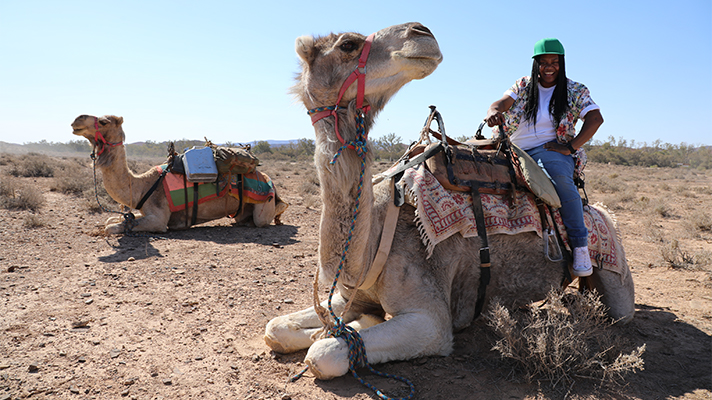 By asking modern kids to "walk a day" in the shoes of a young person from another era we challenge them to master new skills, take on unfamiliar responsibilities, develop empathy and broaden their understanding of themselves and the world they live in," she says.
Society of Australian Genealogists education officer Danielle Lautrec says exploring family history can be a great way to connect with relatives and get an understanding of where you come from.

"I think it's very important to understand about different types of families and different types of people, and for children to feel connected to the people in their family," she says in an article.

She recommends children start their research by talking to their parents and grandparents. Questions can include:
Where were they born?
When did they get married?
Do/did they have brothers and sisters?
Do they have any old photographs of the family? If they do, can they name the people in the photographs?
Sharing family stories can be a meaningful way to connect with others, deepen children's cultural identity and inspire further research. Beyond co-viewing, you might like to plan a family activity for the future – a trip to the library or museum, a visit to a historically-significant place, or even set up an Are You Tougher challenge of your own!

Are You Tougher Than Your Ancestors? airs 6.30PM weekdays on ABC ME.

 
Are You Tougher Than Your Ancestors? is a Flying Kite and Sticky Pictures production for the ABC, with investment from the ABC, in association with the South Australian Film Corporation and the Documentary Australia Foundation. The ACTF distributes Are You Tougher Than Your Ancestors? internationally.