Gela Hosts "Are You Tougher" with Heart
---
ACTF
30 Jun 2020
Performer Ghenoa Gela has a passion for history. Through dance she explored her own female ancestry in the Western Torres Strait in the award-winning Fragments of Malungoka – Women of the Sea. She teaches self-esteem classes to young Indigenous kids and has contributed to programs such as Strong Girls, Young, Black & Deadly and St Martin's Youth Centre. Gela aspires to inspire, especially kids.
Gela previously worked as children's television presenter on NITV's Move It Mob Style. Now, she hosts new children's live-action series Are You Tougher Than Your Ancestors? on the ABC. Each episode challenges kids to walk in the shoes of a child from another era. Diving into new worlds, the kids learn as much about themselves as they do about history and unearth some unexpected skills in the process. "G" is a mentor and friend to the children who take part in each episode as they make their way through the immersive experience of walking in the footsteps of a child from the past. 
Reviewer David Knox from TV Tonight says having cheeky "G" embedded into each scenario brings a touch of humour and relatability around how extreme some of the tasks are for modern kids.

"In her funky dreadlocks, cap and sneakers, ["G"] has an instant rapport with her young cast, without ever speaking down to them… "G" is a beaut tour guide for this bright series by Sticky Pictures / Flying Kite Pictures that cleverly re-enacts Aussie history for a young audience."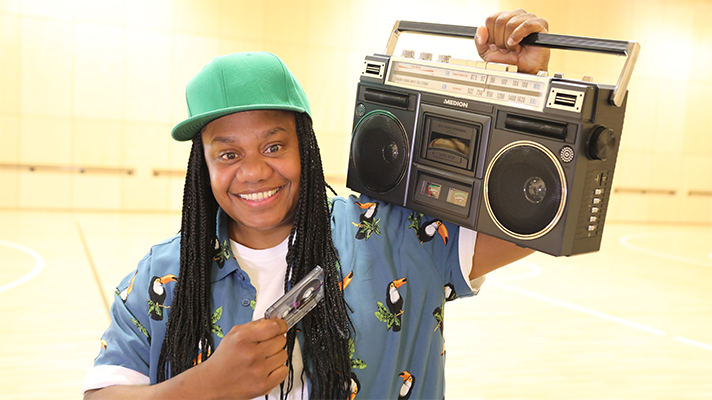 Eddie Cockrell from the Australian agrees: "With her sly humour and sincere encouragement, Gela proves a proper host to a proper series of fun history lessons."
Gela says she is the kind of person who likes hanging out with kids. "What's cool about Are You Tougher Than Your Ancestors? is that the kids are really talented. I get to meet kids from the past and from the present and they both bring some pretty amazing stories to the front in the show."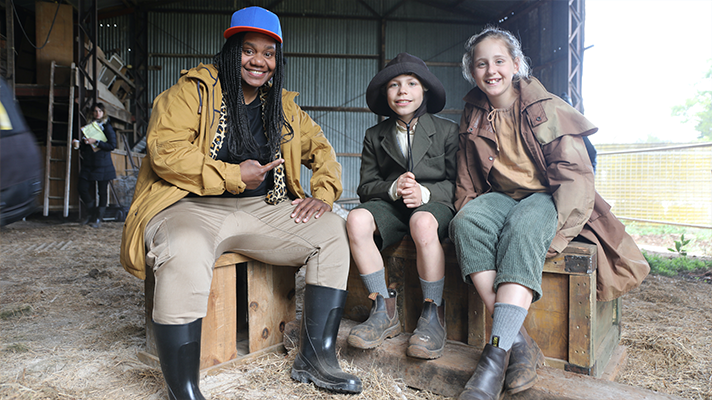 After only a few short weeks since the program's premiere, Gela's spontaneous and warm approach has already proved a hit for families watching at home.
Viewer Phllippa Chandler tweeted "Hello, some fan mail for you! My kids and I love Move It Mob Style and have just discovered Are You Tougher Than Your Ancestors?. You are awesome in it!".
Others have been sharing the love for "G"'s bubbly persona on the show:
"Hi "G" @ghenoa_gela, we are loving the new series Are You Tougher than Your Ancestors?. Awesome show." – @bullzwool
"Loving Ghenoa Gela on the brand-new ABC Me show Are You Tougher Than Your Ancestors?. She might well be [my favourite performer], but she's funny as too". – @katiemare123
Viewer James Whelan particularly enjoyed episode 7, where kids Caitlyn and Stella learn the ropes on board the three-masted sailing ship the "James Craig" to match 1912 sailor Douglas Bull's seamanship skills. After the episode aired, he tweeted: "Finally managed to catch @ghenoa_gela (in a watermelon ensemble I want) showing a couple of girls how to navigate 21 sails of the James Craig and my girls are wrapped. Are You Tougher Than Your Ancestors? is great – well done the ABC."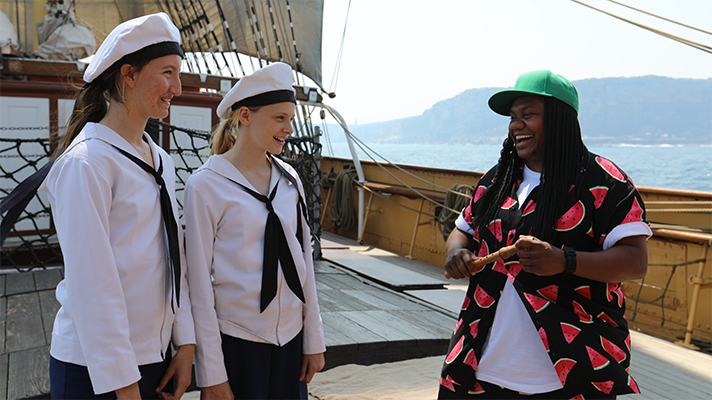 For teachers looking to introduce "G" and a series of fascinating historical stories into the classroom, Are You Tougher Than Your Ancestors? is now available via the ACTF Shop.
For home viewers, episodes are also currently available on ABC iview and the ABC ME app.  


ARE YOU TOUGHER THAN YOUR ANCESTORS? IS A FLYING KITE AND STICKY PICTURES PRODUCTION FOR THE ABC, WITH INVESTMENT FROM THE ABC, IN ASSOCIATION WITH THE SOUTH AUSTRALIAN FILM CORPORATION AND THE DOCUMENTARY AUSTRALIA FOUNDATION. THE ACTF DISTRIBUTES ARE YOU TOUGHER THAN YOUR ANCESTORS? INTERNATIONALLY.