Hardball: Series 2 in Production!
---
ACTF
8 Feb 2021
The ABC's award-winning children's series, Hardball was Northern Pictures' first foray into live-action drama for the 7-11 audience. The series bounced onto Australian screens on ABC ME in 2019. After a whirlwind of award recognition, global broadcaster interest and an outpouring of love from audiences at home and overseas, the ABC announced as part of its 2021 Upfronts that a second series is on the way.
Northern Pictures Executive Producer, Catherine Nebauer, and Head of ABC Children's, Libbie Doherty, reflect on the key takeaways of making a fun and fast-paced series like Hardball, and share some of the challenges of filming during a pandemic.
In ten new episodes created by Matt Zeremes and Guy Edmonds and produced by Northern Pictures for the ABC, the Hardball crew face new challenges, the end of primary school approaching, and a scholarship opportunity for Mikey that could split up the gang for good. Together the kids from Block Street strive to win the state doubles handball tournament before they reach the end of primary school and experience all the change that comes with it.
"Hardball season two is on track to blow the ABC ME audiences' minds. Everything you loved about season one just got bigger and better. The stakes are bigger, the obstacles are bigger, and (no spoilers!) the game of handball is bigger – but we wanted to make sure we could get to a season 2 before the cast themselves got too much bigger! The young cast: Semisi Cheekam; Reannah Hamdan; Erin Choy; and Logan Reberger have returned to deliver knockout performances in a season that is funny and heartfelt and will be much anticipated by audiences in 2021," says Libbie.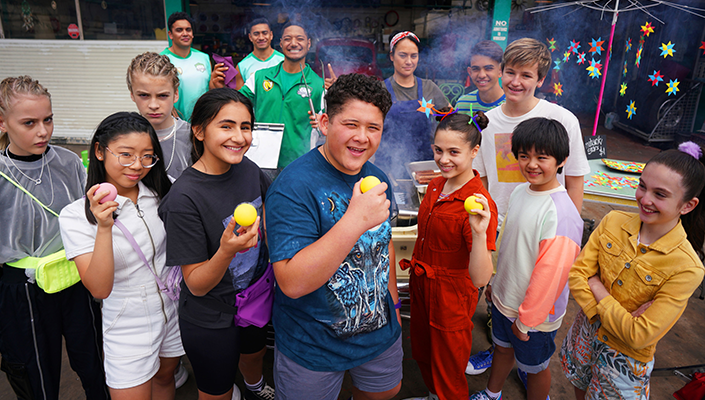 "This series, we see major changes include Tiffany joining team Mahaki – Mikey and Tiffany play in the double's tournament together. We also introduce the Volkov twins to the school – two stellar athletes who are handball champions! We visit a lot of new locations, while also returning to some of the locations that are so iconic from Series 1," says Catherine. The team returned to La Perouse Public School, but COVID-19 restrictions meant they had to film all those sequences during the school holidays.
Hardball's second series sees the return of executive producer Catherine Nebauer, producer Joe Weatherstone, and series creators Matt Zeremes and Guy Edmonds. Directors Darren Ashton and Fadia Abboud have also returned. Amy Stewart (Drop Dead Weird) and Nazeem Hussain (Orange is the New Brown) joined the writers' team this season.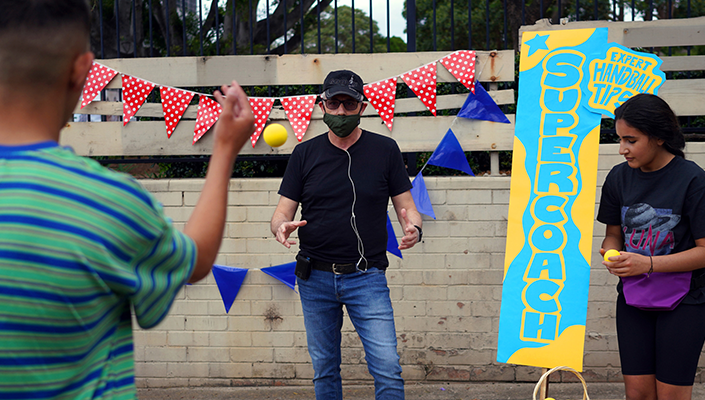 Drawing on previous experience, the creative team had a clear focus and vision for each episode. Approaching the fully realised world of Hardball a second time allowed the team to finesse finer details, such as optimising scene length and improving cast schedules.
"In Series 1, there was a heavy workload on our main character, Mikey. He was in absolutely every scene – he couldn't have a day off and we had everything crossed that he didn't get sick (fun fact: he was sick on the first day of our read through for the first week… you can imagine how nervous we were!)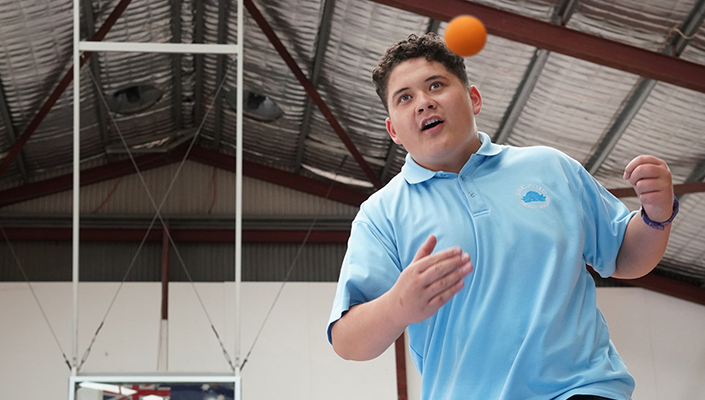 "This time around, we wanted to ensure that we had some scenes we could shoot if we needed to without him. He still had a very heavy schedule, but certainly this was one key take away [from Series 1 to Series 2]," Catherine says.
Filming during COVID-19 presented some logistic hurdles to overcome.
"As much as possible, we wanted to ensure our kids did not feel like [the atmosphere on set] was too different, while still ensuring that we adhered to the strict social distancing requirements and use of masks etc. Many of our crew were on board for Series 1, but we did see some new crew in some departments as some border restrictions meant crew were unable to travel."
"2020 was a very different year than anyone could have foreseen or expected. In between experiencing some form of home schooling and being isolated for bursts from family and friends, for the cast (and many of the crew!), coming back to set for Series 2 felt like the most familiar and comfortable thing in an altogether strange time," Catherine says.
Reflecting on the success of series one, Catherine says
"I always knew this series was going to be special, but I don't think anyone could expect how special. It's a little show but it has enormous heart. The writing is fresh and funny, and our kids are smart. I think many kids can see themselves reflected in these characters. Hardball's realness and it being so representative of all our diverse worlds has resonated."
"We are very grateful at the job the ACTF has done in getting it out to broadcasters and that broadcasters have taken a punt on this series. We are just delighted that with the support of ABC, our investment bodies Screen Australia and Screen NSW, and the ACTF, we get to do it all again!" Catherine says.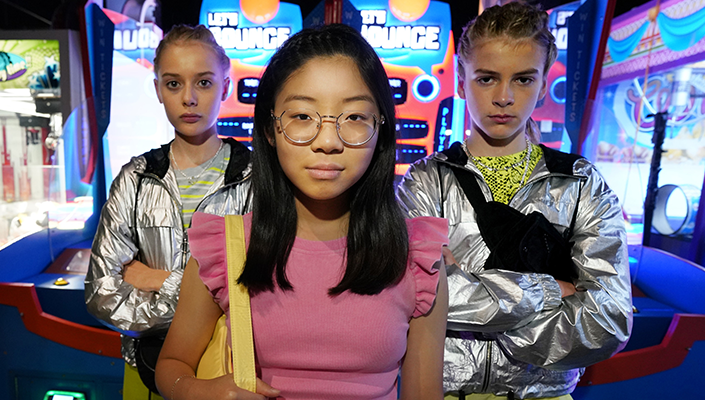 "Congratulations to the team at Northern Pictures, who have done an excellent job against the backdrop of the pandemic in mounting this series. The usual challenges of working with children were amplified in 2020 and the care, diligence and dedication has been excellent. We also want to thank all our finance and production partners who came together to bridge the additional COVID costs – Screen Australia, ACTF and Create NSW – without their support, we couldn't have got this show on the road," says Libbie.
The first series of Hardball is currently streaming on ABC iview, and can be purchased as a digital download from the ACTF Shop for Education and home users.
The ABC has the world premiere screening rights for Hardball – Series 2, with the series set to screen on ABC ME in 2021. Look out for the ABC's announcement later in the year about a screening date and subscribe to the ACTF's fortnightly eNews for updates.
The ACTF's worldwide sales team will be launching the second series of Hardball at MIPTV, but international broadcasters can contact the team to start discussions right now via our website.

Hardball is a Northern Pictures production for the ABC, with investment from Screen Australia in association with the ABC. Created by Guy Edmonds and Matt Zeremes and Executive Produced by Catherine Nebauer, Produced by Joe Weatherstone. Financed with support from the ACTF and Create NSW. The ACTF distributes Hardball internationally.