Producer Profile: Lah-Lah Productions
---
Holly Tosi
23 Feb 2018
Music, music and more music. That's what keeps Tina and Mark Harris going all the time.
Whether they're onstage, getting children up and dancing during performances as Lah-Lah's Big Live Band, or as television producers, working on-set or in-office to bring more adventures with the Lah-Lah gang to the screen, it's all about the music.
If you were to ask a young, Aussie, music-mad child, they'd quickly tell you Lah-Lah is a pretty big deal. With 20,000 fans following on Facebook, an ARIA nomination for their studio album "Having Fun" and countless sold out live shows, Tina and Mark have been busy building something special. They're not just local heroes, either. The television series has been a hit in the UK and Canada as well.
It started in 2009 with the Lah-Lah band, who produced a live album and toured a new live show for pre-schoolers across Australia. The band, comprised of professional musicians (all friends of Tina and Mark's), quickly set themselves apart from other children's performers with their energetic, jazzy tunes. The music is more than catchy, it's sophisticated and features the sorts of solos parents would be happy to hear at a jazz club on a Saturday night. The live show took the band across the country to huge stages such as Sydney's Enmore Theatre, the Melbourne Recital Centre and the Sydney Opera House as part of a sell-out run of shows for its Babies Proms season.
Though they inspire a boogie as much as any other family entertainment ensemble, Tina, Mark and their band are passionate about more than creating a good time. They are passionate about music education for children. So, when the chance arose to move into television, Tina and Mark were inspired by the educational possibilities for a much wider audience.
Lah-Lah has always been about introducing children to music and specifically, to musical instruments. As Mark puts it, "All children's television has music throughout it, but a lot of the time what you don't see are the instruments and the musicians making that music."
The characters in Lah-Lah's Adventures, which debuted on Channel 7 in 2014, were drawn from the band members, who are trained musicians, and not trained actors. For Tina, these characters are the reason Australian kids love the series so much. Even the names of these characters serve to connect children to instruments. Lah-Lah sings, Tom-Tom plays the drums, Squeezy Sneezy takes his name from the piano-accordion he roams the stage with, and Buzz is a band leader who plays the Double Bass. On screen, these characters are with their instruments all the time – literally, all the time. The feedback Tina and Mark love to hear the most is of children picking up instruments in their day-to-day life, like a little boy trying to play the vacuum like a saxophone, "That was the best."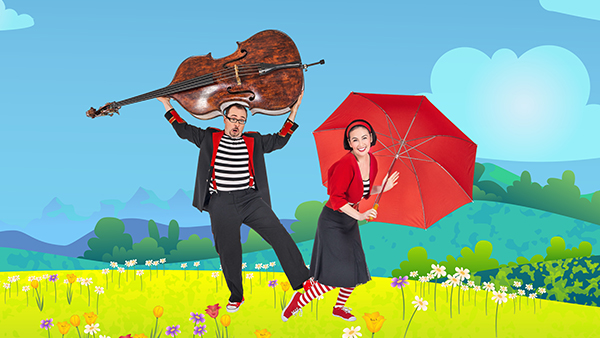 With a background as a teacher, Tina knows how well music goes down in the classroom. Both she and Mark believe that music should be part of the STEM core learning subjects for all children, and they're dedicated to giving teachers the tools to make music classes the best they can be. The pair are working with the ACTF to develop a music education resource for early primary teachers and students. Knowing that many primary schools don't have a specialist music teacher, these resources aim to help generalist teachers without a music background, get the most out of teaching music.
The Harris duo's production company (Lah Lah's Productions) have a whiteboard filled with exciting projects. For 2018, the big goal is their second long-form TV series, The Stripy Sock Club, another project of theirs that has led to new partnerships. As with their first series, The Stripy Sock Club is set to be a mixture of live action and animation, with technology playing a huge part in the latter. Tina and Mark have teamed up with RMIT University in Melbourne. RMIT's new television studio is equipped with Zero Density technology, which enables live action to be composited into 3D backgrounds instantly during the shoot, cutting post production time significantly. After a successful test shoot supported by the ACTF's development program, Tina and Mark are now ready to develop the scripts and bring the series to life.
At the end of the day, their dream is to connect children to music – and the dream is well and truly alive. Tina and Mark's passion for music education, shared by the entire team, sets them apart from the rest. It also brings a special edge to the Lah-Lah universe.