Luke Carroll's Lift Off! Memories
---
ACTF
15 Oct 2018
In the '90s, faceless dolls, talking elevators and all-seeing plants were just normal parts of growing up Australian. Actor Luke Carroll knew this 'beautiful fantasy world' better than most, spending his childhood on the set of the very wacky and lovable children's series, Lift Off!
In an interview with ABC program Throwback, Luke explains his time on Lift Off!, playing the character of Paul Jordan – the eldest child and step-brother to Aku. Luke was one of the 'Lift Off! Kids', whose adventures we followed throughout Mr. Fish's apartment lobby… and beyond.
Luke recalls his time on Lift Off! fondly – spending his days with larger-than-life puppet characters, including Beverly the Plant, Wolf and the Pigs, Zelda, Lonely, Boss and – of course – EC.
"The one that everyone remembers is this faceless, slightly scruffy looking doll that went by the name of EC. I think that doll gave a lot of people nightmares"
"EC was a very interesting character. EC represented 'Every Child'. So, if you wanted EC in your imagination to have brown eyes or brown hair, it could be anything you wanted it to be."
"Looking back on it, it was very, very clever. They were ahead of their time", he says.

Image: Dave May
Lift Off! was produced by the Australian Children's Television Foundation for broadcast on the ABC. The series – a mix of live-action, animation and puppetry, was based on the ideas of Harvard University development psychologist, Howard Gardner, who targeted the education elements in the series for 3-8-year-olds.
"The idea was to create a show that would be all about engaging kids in different ways of learning", Luke says.
Linked with the school curricula through the Curriculum Corporation of Australia, Lift Off! explained a number of teachable moments for pre-schoolers and lower primary students. In the series, the Lift Off! kids explored conflict resolution, how to build a community, ways to protect the environment, fire safety and much more.
For Luke, alongside its educational impact, Lift Off! was also an opportunity to represent his community and culture on screen. During his time as a child actor, Luke remembers that there weren't many Indigenous child actors on TV.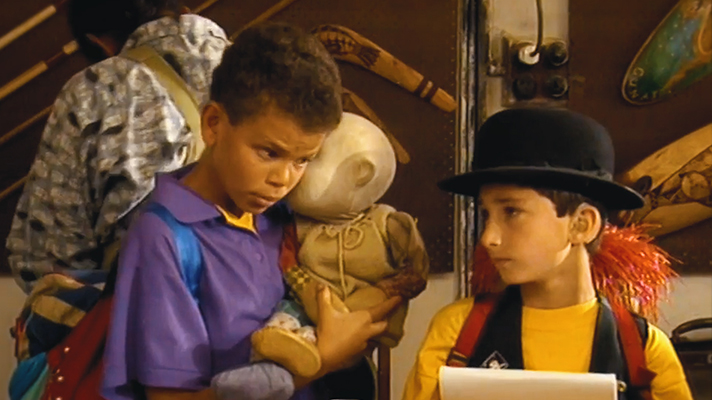 "I had a lot of kids I worked with [and] went to school with, [who] could relate to my character and feel represented and proud of who they were", he says.
It wasn't just Luke who saw the immense educational and cultural value in Lift Off. During its run from 1992-1995, Lift Off! – series 1-2 received a number of awards including an AFI, a Prix Jeunesse, a Japan Prize and a top gong at the New York Festival. The accolades came from within Australia and overseas.
Luke admits that, like many of us at home and around the world, the fun and wonder of Lift Off! continues to live within. As an adult, Luke has returned to his roots in Australian children's television, by starring as a presenter in iconic series, Play School.
Now raising a child of his own, Luke is continuing where he left off with Lift Off! – entertaining and educating generations of Australian kids.
Image: Dave May
"Education at such a young age is very, very important – and children's television plays a big part in that", he says.