Ned Lander Talks Producing Animation During the Coronavirus Lockdown
---
ACTF
20 May 2020
IMAGE: LITTLE J AND BIG CUZ – SERIES 2 DIRECTOR TONY THORNE (LEFT) AND RECORDING ENGINEER TODD SHATTOCK.
How are animation producers adapting their workflow in a locked-down world? As productions across Australia are cancelled or put on hold, producers find creative ways to keep their projects moving during the worldwide Covid-19 lockdown period.
Ned Lander, Producer of Little J and Big Cuz (Ned Lander Media with Media World, Blue Rocket and 12 Field) talks about the challenges that Covid-19 precautions have presented for animation and production companies, and explains how the Little J and Big Cuz team were able to pull together to create a special PSA video "Everybody Wash'em Now" – to get the message out to kids in remote communities about staying safe during the pandemic delivered by the beloved characters from the series – from all corners of the country and within a very limited timeframe.
"We know – from our audiences and first-hand feedback – just how much it means to young Aboriginal and Islanders kids to see themselves in a popular form on mainstream TV." Ned explains.
"NITV and ABC asked us to create something using the world and characters of Little J to get an urgent message out about hand washing to Australia's remote communities. They knew that kids were potential spreaders of coronavirus, and that a great number are cared for by vulnerable older people, and that these kids relate to Little J and his friends."
But despite the national restrictions put in place to mitigate the risk of coronavirus spreading throughout the workplace, Ned and his team found themselves readily able to navigate having a large team working in isolation.
"Little J & Big Cuz is a national show employing around 150 people who are working right across Australia. We have a large number of stakeholders and unusually, we have two local broadcasters sharing free-to-air. Obviously, this makes things complicated at times, but it is also a great area of strength for the project."
"Over two series, we had been refining the process of working in teams across these different locations – something that many contemporary animated productions do. Fortunately, when we started in 2015, Media World and Blue Rocket were already highly experienced in working nationally and internationally. The next COVID step was to plan how we'd break the work of managing and delivering the production down further, so everyone could work from home."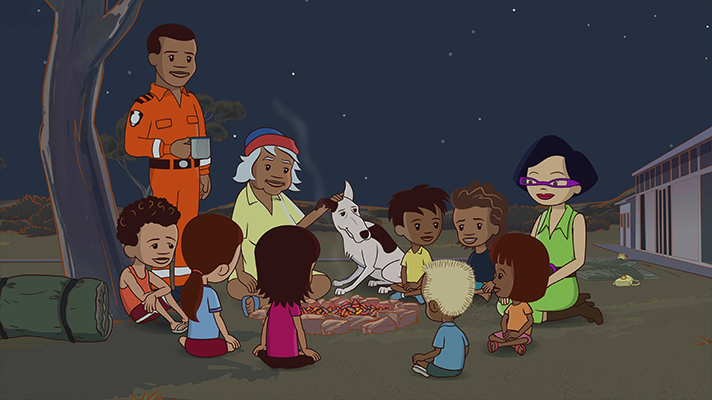 Although the Little J and Big Cuz team had a well-established workflow in place, there were still challenges to be addressed as they adjusted to the new working environment.
"There have been practical considerations, communications and IT problems to solve and the lockdown has, understandably, impacted the contracting process. The great majority of the team are working from home and those who can't are complying with social distancing directives. We have a detailed COVID Plan which includes constantly monitoring directives across multiple states. Around seventy-five people are engaged on the English language version of each Little J series and another seventy-five work on revoicing the show into multiple Indigenous languages. Those numbers include a lot of families who have been coping with financial stress, keeping work on track from home and caring for children."