Starting School: Kids' TV to Ease First Day Jitters
---
Janine Kelly
6 Feb 2020
The first day of school is a universal childhood milestone. You survived your own, and – unless you're a teacher – probably haven't had to think too much about first days again. Until, that is, the tiny baby you brought home is suddenly and inexplicably a self-declared 'big kid'; one that is ready for big school.
Like hundreds of thousands of others across Australia, my daughter recently pulled on her new backpack and compulsory hat and skipped along to her first day of school. From all reports, it was a great day and there were no tears. (More than I can say for her parents.)
Having taught Prep before my daughter arrived, I'd been hyperaware of this day coming for, oh, about 5.5 years. Hoping for a smooth start to school, we attended transition sessions, read books about school life, and I employed every Prep teacher tip I had up my sleeve. Because I share a home with a fervent ABC Kids fan, relevant kids' television programs were also on my radar.
Luckily for school starters and their families, there is a range of quality Australian programs that explore the environment, routines and expectations of primary school. Our family has found that the following shows (all currently available to stream online) are perfect for co-viewing and chatting about after an exhausting day at school.
Created for children aged four to six, Little J and Big Cuz aims to help Indigenous kids transition to school by modelling the daily routines of an early primary classroom. While illustrating that school is fun and welcoming, this animated series also communicates aspects of Indigenous culture with non-Indigenous children.
In the recently released second series, five-year old Little J and his cousin find out more about their world and themselves – in the backyard, the classroom and on Country. They navigate friendship troubles, school assembly and school excursions, and learn about traditional practices such as pandanus weaving and bush medicine from the Top End. The complete first series is available to stream on the Little J and Big Cuz website, along with school transition tips for parents and carers.
In Maurice's Big Adventure, Play School's much-loved teddy bear Maurice embarks on a series of exciting events, including his first day of school. In the first of these five-minute episodes, Maurice rehearses his morning routine for school days: he pulls on a uniform, helps with his lunch box, packs his school bag, and walks to school with friends. Later episodes focus on various aspects of school life, including lunch time, show and tell, specialist classes. These episodes demystify the 'big school' experience for children and help them to picture themselves in similar scenarios.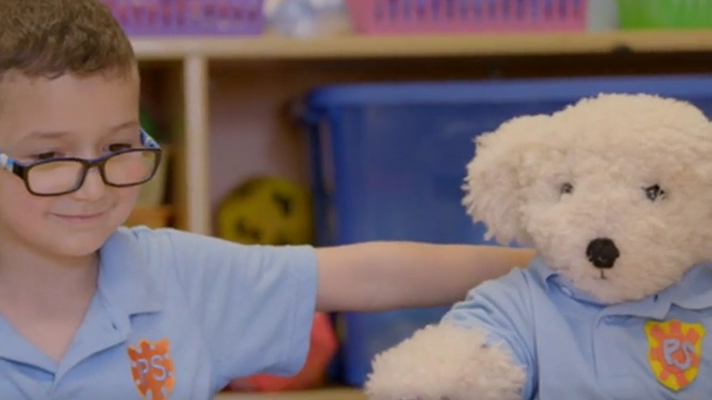 There can't be many Australian families with young kids that haven't yet come across Bluey. This animated series about a six-year old Blue Heeler and her family is widely celebrated for its depiction of contemporary home life. But Bluey is also relevant to the start of primary school, as it illustrates the personal and social behaviours that are expected in the classroom.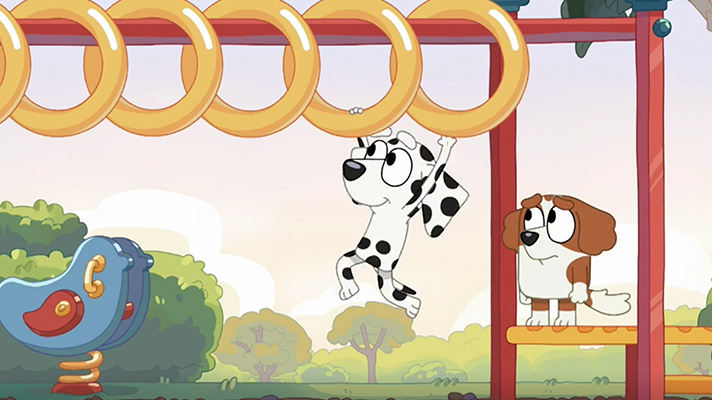 More so than knowing the alphabet, or how to write their name or use scissors, a child's ability to self-manage can really determine how smooth their start to school will be. Self-management skills include regulating emotions, persevering with tasks, and developing independence and resilience. In the moving episode 'Bike', Bluey struggles to master riding her bike. But as she watches her friends' determination to conquer their own challenges – like putting on a backpack or reaching the monkey bars – she is inspired to give it another try. Bingo models patience for her older sister in 'Wagonride', and Bluey experiences the thrill of her burgeoning independence in 'The Beach'.
Social skills are also central to these storylines. Episodes including 'Shadowlands', 'Shops' and 'Hotels' focus on cooperative play, highlighting the need to work together, compromise, and follow the rules. The slightly heartbreaking 'Butterflies' shows children what being inclusive (or not) looks like, and how to patch things up with a friend or sibling when it all goes wrong.
So, what if you've read all the books, watched all the shows, had all the discussions… but your child still isn't sold on the whole 'formal education' concept?
Many children need extra reassurance when they say goodbye and start the school day. Those parents with reluctant kinder kids might have already stumbled across the Teeny Tiny Stevies song, 'Light as a Bubble'. This gentle song encourages kids to say goodbye with 'three big kisses, one big cuddle', and it got us through many wobbly-lipped kinder drop offs. Just in time for the new school year, the Teeny Tiny Stevies have released an animated video for the song.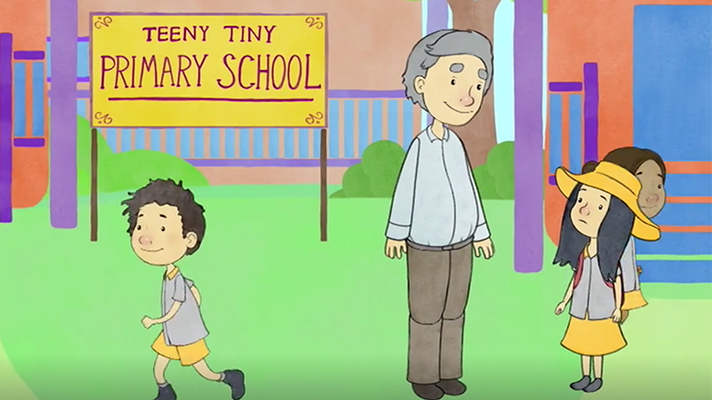 The video shows the morning routines and drop offs for two kindergarten and primary school children – and even a relatable mum who needs a little extra reassurance. This short clip is a great starting point for families to discuss their own goodbyes at school. Establishing a predictable routine (like three kisses and one cuddle) helps kids to anticipate what happens next, making it easier to cope with the transition to the classroom.
By helping children to become familiar with the physical environment, routines and expectations of primary school, these programs will help to build their confidence in these exciting early days. They also model the personal and social skills that are so important for the primary classroom, and give parents a starting point for discussions about school life.
What are you watching with your school-aged child? Can you add any great programs to this list?