The Buried Treasure of Round The Twist
---
ACTF
18 Aug 2020
2020 marks 30 years since iconic children's series Round The Twist hit Australian screens. We all love to remember watching this series as kids (and as adults too!), but did you know that Round The Twist's highly-anticipated Australian launch happened while everyone was still in bed? Here's the story of how 30 years ago, Round The Twist's Aussie premiere was swept out to sea.
In 1989, Australians were excited. They had heard word that a 'deliciously macabre' TV project was in the works, adapted from stories by one of the nation's most beloved authors, Paul Jennings.
Little was known about the upcoming project, Round The Twist (first pitched as Round The Bend and occasionally referenced in early media as Around The Twist), other than it had started filming at Victoria's Split Point Lighthouse in Airey's Inlet, it starred Frankie J Holden, Richard Moir and Bunney Brooke, and it cost three million dollars to make.
Australians believed they wouldn't have long to wait for this anticipated series to air. Within the year, production had wrapped up and by November 1989, the series had been delivered for broadcast to Channel 7.
However, despite the growing public interest in the program, there remained little news of when Round The Twist would go to air. By May 1990 – six months on from its delivery, no Australian premiere date for Round The Twist had been announced.
In an ironic twist for a series so inherently 'Aussie', it was in fact the Brits who watched Round The Twist first.
And boy, did they enjoy it.
BBC1 premiered the series to the world in April 1990 in prime-time at 5PM on Fridays. It quickly shot to fame with UK audiences, pulling an average of five million people per episode. That year, Round The Twist ranked as the UK's seventh most popular sitcom and outperformed U.S. kids' juggernaut, Teenage Mutant Ninja Turtles.
By the time Australia decided to run Round The Twist, the BBC had asked for a second series, Scandinavia was well into repeats and it was being dubbed into German and French.
When Channel 7 finally decided to premiere the series in Australia on August 26, 1990, it was met with uproar. After the long wait and proven success in the UK, Round The Twist was scheduled for 8.30AM on Sundays – a time otherwise known as the 'ratings dead-zone'. It was reported at the time that the number of houses using TV on a Sunday morning was less than a fifth of those during prime-time.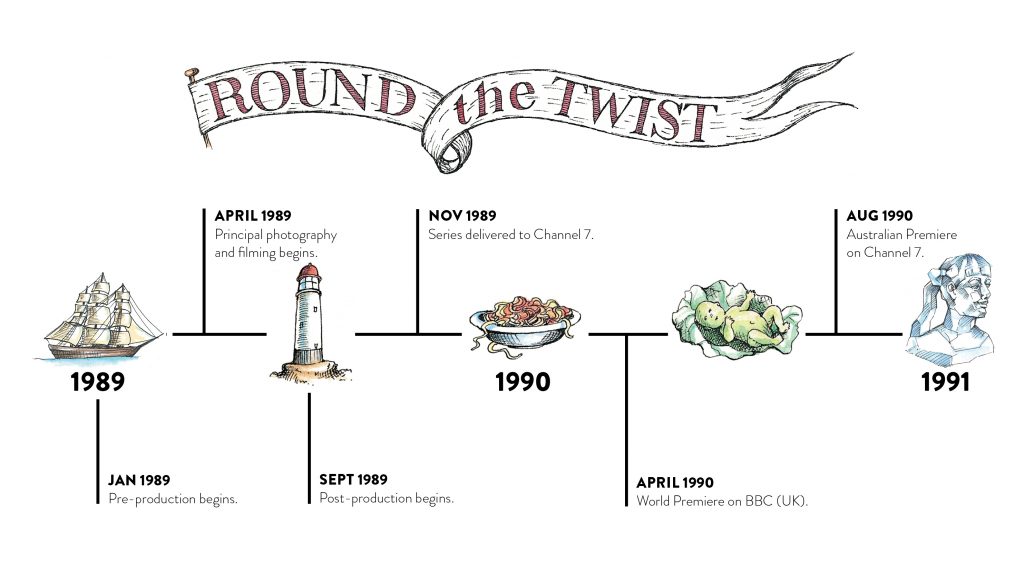 Australian audiences were furious. Viewers quickly took to the media to deem Channel 7's 'burying' the series an "unspeakable act" – "dreadful", "atrocious" and "a waste". In one letter to the editor, a disgruntled fan said "Channel 7 deserved a bullet" for their decision to broadcast the series "while everyone is still in bed".
Seven's announcement left many in the media questioning the broadcaster's commitment to its young viewers.
"8.30AM on Sundays is hardly a blockbuster, cut-throat slot, which makes me wonder why Channel 7 is about to close down The Mouse Factory (whatever it is) and replace it with Round The Twist.
"I mean, how many other Australian series which cost $3 million to make have been shown at 8.30AM Sundays? If this is a new trend in programming, it requires an explanation," said Lawrie Masterson for TV Week.
CARTOON PUBLISHED IN TV WEEK AUSTRALIA, 11/8/1990
"Why don't they move Ninja Turtles to 8.30AM Sunday and give us our own writers and talent in prime-time?" added viewer Shirley Cumming in a letter to the editor of The Age.
For the ACTF (who produced Round The Twist), the news was heartbreaking, but not totally unexpected. The 8.30AM timeslot had been tested earlier that year on the release of Kaboodle – Series 2, which had proved an unpopular time for audiences. When Seven's announcement for Round The Twist was released, the ACTF campaigned to urge the broadcaster to reconsider a 6.30PM timeslot on Sunday nights. This request was rejected by the network.
The decision was so grave that it almost saw the end to Paul Jennings' involvement in Round The Twist altogether. In a 1990 interview with the Geelong Advertiser, Jennings said:
"Channel Seven have buried [Round The Twist] before breakfast on Sunday and I wish another channel had bought it."
"I just think that for them to show an American show like Teenage Mutant Ninja Turtles, which Round The Twist out-rated in England, in a premier timeslot and dump this down where no one will see it is a really poor show.
I have been approached (about making more television programs for children), but at the moment I'm still recovering from the timeslot of 8.30AM. I know it's doing really well overseas, but I really wrote it for Aussie kids. And it took two years to do. To have two years of your life buried at dawn, it's a pretty sad thing. So, I'm going to wait and see what happens to Round The Twist. If it's really popular and gets a better timeslot in its second run, I might reconsider it. But at the moment, I just can't bring myself to say yes."
Despite the disappointment of cast, crew and audiences, the broadcaster remained steadfast in their decision. At the time, Seven programmer Ian Duncan said that 8.30AM Sundays is "simply the best place for [Round The Twist]."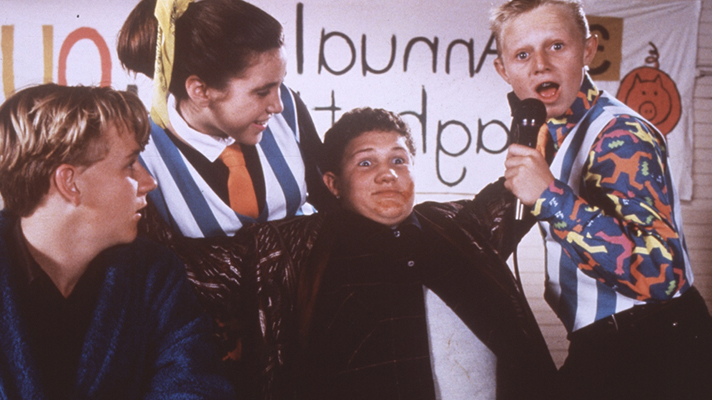 "The opposition programming at that time is pathetic and it will maximise the audience for the program," he said.
During the early '90s, Channel Nine held the lead in ratings for the nightly news/current affairs timeslot and overall prime-time surveys, with Seven occasionally making inroads. In a strategy to compete with its opposition, Channel 7 reserved its coveted 5-6PM timeslot for reality gameshow programming.
When questioned on Round The Twist's slot, Channel 7's network director of programming, Glen Kinging said: "We just can't see the series rating as well as Family Feud or Wheel of Fortune".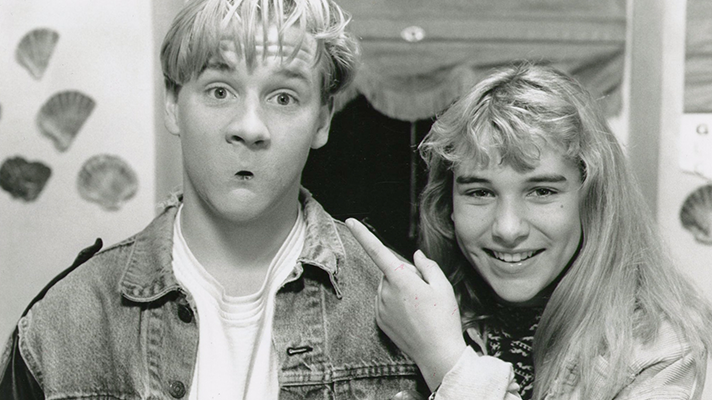 Margaret Geddes for The Age responded:
"The Seven Network's conviction that anything that gains the Australian Broadcasting Tribunal's C rating is by definition unsuitable for adults is unshakeable.
"It apparently has not occurred to Seven to wonder just how well it may have rated in a family viewing time-slot… Given Seven's attitude, chances are we'll never know," she said.
Thankfully, the people of Australia let Seven know the importance of Round The Twist. Despite modest promotion and unappealing time-slot, Round The Twist beat the odds – its popularity grew, largely by word of mouth.
Jeffery Walker, who played Bronson in series 2, remembers waking himself up early to catch the original season.
"I remember the first season of Round The Twist. It was on very early. My sister and I would get up to watch it – we just loved it," he said.
Like Jeffrey, many Australians embraced the series. In schools, teachers taped Round The Twist to share with their students. At home, it was enjoyed by both children and adults. VHS sales skyrocketed as media predicted the series would broadcast again, but not for at least another year.
Over time, word-of-mouth promotion prevailed. Four seasons and 29 years later, Round The Twist is one of the most successful children's dramas made anywhere in the world. Even now, the series remains on air or on SVOD (somewhere across the globe) almost every day of the year. In Australia, Round The Twist remains an embedded and much-loved part of our nation's cultural history.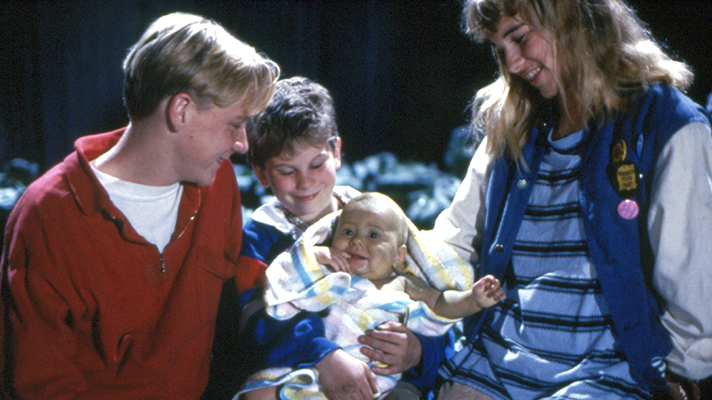 Happy Twisted Anniversary.
Watch every episode of Round The Twist for free on Twisted Lunchbox. For more stories like this, follow the ACTF on Facebook or sign up to our eNews.