What Critics are Saying about Thalu
---
ACTF
5 May 2020
Australian live-action children's series Thalu premiered on NITV on April 20. In just a few short weeks, the series has piqued the interest of critics and been a popular viewing choice for families.
Thalu follows a group of Indigenous kids who undertake a journey to save their Country from the threat of a mysterious dust cloud and its inhabitants, the Takers. Taking a heroes journey, throw in lots of energetic physical and visual comedy, and Thalu is funny, exciting, relatable, and offers young viewers an eye-opening glimpse at people and places they could never have imagined.
TV Tonight reviewer David Knox says he was struck by one unavoidable aspect when watching the series.
"The six Indigenous kids wandering around the outback here are happily enjoying an adventure. They are calmly at one with their land. Were this six kids from a metropolitan city, I dare say this would be a tale about being lost and probably pretty frightened. Therein lies the difference. Thalu is made for its audience and reiterates a place in the world."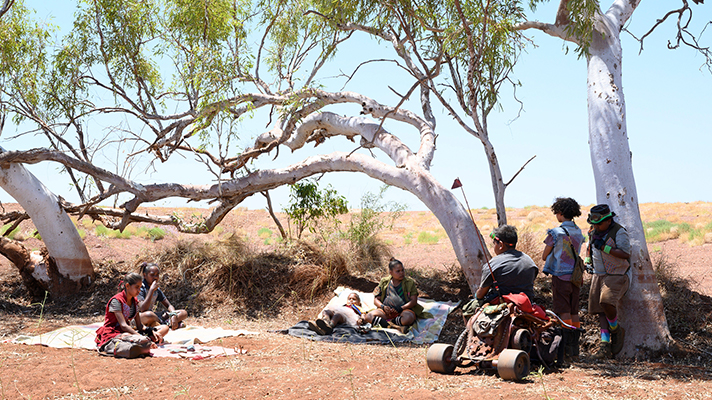 The series was shot in and around the town of Roebourne, known by locals as Yirramagardu. Yirramagardu is approximately two hours north of Perth by air in Western Australia's Pilbara region.
The Pilbara region is famous for its ancient rock art, and within a 30 minute radius of Roebourne lies a variety of landscapes and locations, including rust-coloured rocky outcrops, salt flats, beaches, white quartz hills, grassy flats, water holes, river beds, flat topped hills, cattle stations and historic buildings, much of which is showcased within Thalu's episodes.
Eddie Cockrell from The Australian describes the series as "delightfully surreal".

[In Thalu,] community stories… are woven with elements of Ngarluma culture to create a unique narrative that mixes Little Rascals, Teletubbies and Mad Max (minus the violence and car chases) to distinctive effect in a show that is all Country. [The] newcomer [cast has] an honest chemistry that is infectious, and the 13-minute episodes are well-timed to catch the target age group on what would have been school holidays if everyone weren't sheltering in place anyway. Thalu is a weird and wonderful winner," he says.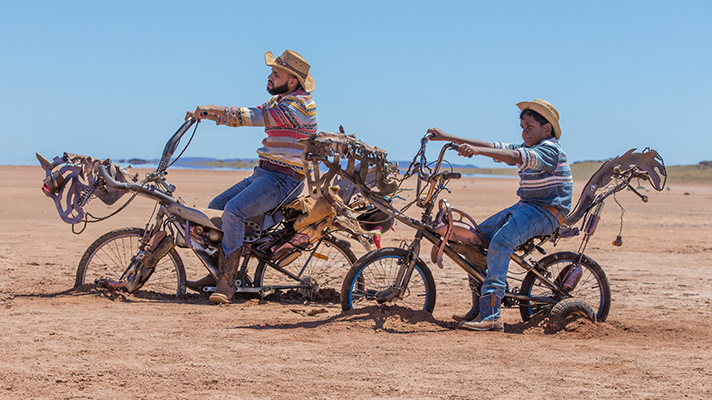 Debi Enker from The Sydney Morning Herald commends Thalu's unique costumes designed by costume designer Kylie Clifford, which feature the colourful work of local artists. That along with its unique look and feel, created by a team including Production Designer Otello Stolfo and DOP Torstein Dyrting.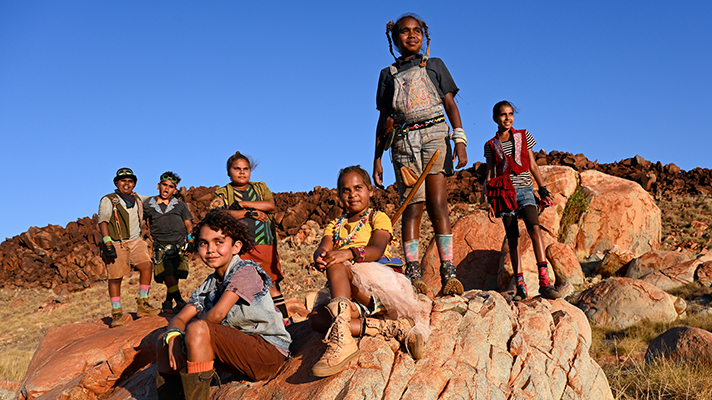 "[The series is] brimming with energy and proudly display[s] a West Australian outback landscape. [Thalu's] story idea is a classic quest, the tone is jaunty and the series earns bonus points for the eclectic costumes", Enker says.

Bridget McManus for the Sydney Morning Herald agrees.

"Borrowing from such legendary quests as The NeverEnding Story and even A Wrinkle in Time, this journey is bolstered by candid Aboriginal humour. The kids are delightfully unpolished; their apocalypse warrior costumes superb".

Thalu's seven lead cast members were selected from Roebourne's local community. Ella Togo (Samara), Jakeile Coffin (Keile), Sharliya Mowarin (Lali), Wade Walker (Hudson), Cherry Rose Hubert (Em), Logan Adams (Noodles) and Penny Wally (Vinka) all made their television debut upon the launch of the series.
In a review for The Sydney Morning Herald, TV critic Melinda Houston writes: "the young cast of non-professionals can be a bit creaky on occasion but the kids themselves are gorgeous, the WA locations sensational, and the script and storytelling a delight. In short, this Indigenous live-action series is a cracker."

On Twitter, fans have been sharing their love for the newcomer cast. Viewer Claire describes the series as "the cutest kids' show around. All the kids are newbie actors. I should be cooking dinner right now, but I am hooked. It's too good!"

Viewer Sophia Rose O'Rouke says she turned on NITV for the premiere and "instantly loved" the series.

"Such good content. So refreshing and shows why we need more Australian children's television like this. Great young cast and lots of heart-warming laughs. Loved it."

NITV Channel Manager Tanya Orman says it is an honour to bring so many wonderful characters to families across Australia.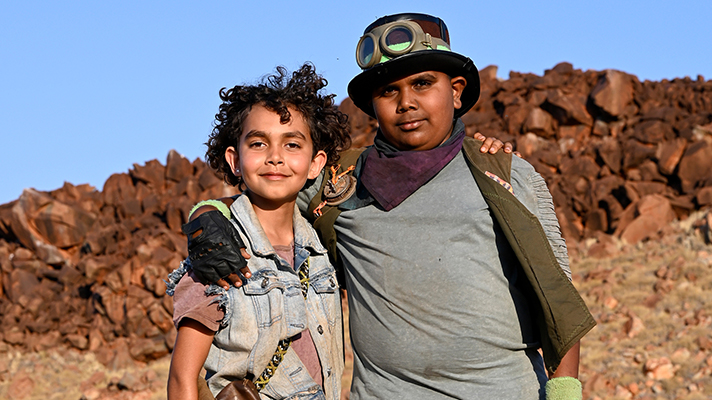 "Not only is Thalu an action-packed adventure, but it's also a celebration of the Pilbara region and its culture. It's not only entertaining, but it's honestly a stunning piece of television," she says.
Thalu is screening 7.30PM Fridays on NITV. Episodes are available to stream for free on SBS on Demand.


Thalu is a Weerianna Street Media production for NITV and ABC, with investment from Screen Australia in association with Screenwest and the Western Australian Regional Film Fund. Financed with support from NITV, the ABC and the ACTF.