Writing about our diverse history with Nadia Wheatley
---
Janine Kelly
10 Aug 2021
The My Place television series, based on the classic picture book by Nadia Wheatley and Donna Rawlins, is a 'time machine' which takes audiences back into the past. It depicts the history of one Australian community through the eyes of the diverse children who lived there, highlighting the ways that First Nations people and immigrants have shaped our national story.
In a recent student webinar hosted by ACMI Education and the ACTF, author Nadia Wheatley discussed My Place, and the importance of learning and writing about the diverse history of our own communities. Nadia also shared practical tips for young writers looking to develop their skills.
Over 9,000 teachers and students registered for this virtual learning event, representing schools in every Australian state and territory. Of these registrants, almost half were from regional, rural or remote areas. Teachers often report that this is what they love most about our webinars: they enable students Australia-wide to connect with industry professionals and expertise, regardless of their school's location.
As an additional support for educators in lockdown, Nadia's webinar was live streamed to a private YouTube page throughout the event. This allowed over 300 students who were remote learning to participate from home.
Nadia's words clearly inspired great discussions in classrooms around the country, as we received a flurry of student questions through the chat function. Many students were curious about how long it takes to write and edit a picture book for publication. Other wonderings included:
How could we get more information to use our own family history in our writing?
What is your favourite part of My Place?
How did the popularity of your story and tv show grow?
How long did it take to draw all the pictures for the book?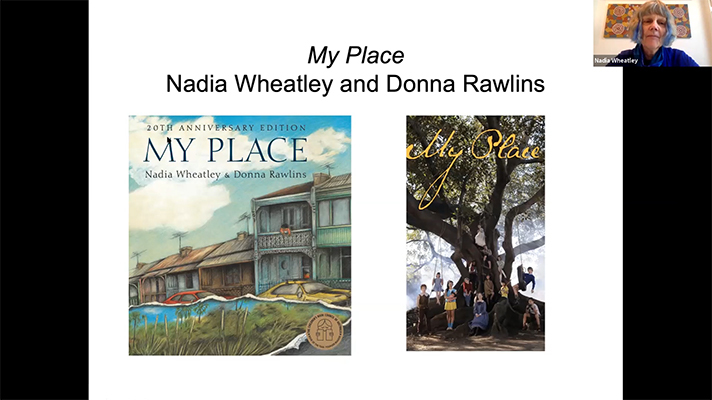 Nadia has kindly updated the FAQ section of her website in response to students' questions.
As always, the positive feedback we received from classroom teachers, students and other participants highlights just how valued these sessions are. Students at Sydney's Malek Fahd Islamic School participated in an online class after the webinar to review Nadia's advice and share their impressions. After learning more about My Place, these inspired students came away more determined to improve their own writing. As Mohammed Aniz, teacher at Malek Fahd Islamic School, explained:
"It is amazing how much conversation this text generates during our readings. Our readings so far have been an opportunity for us to understand other cultures, pastimes of children in historical times, family structures and reasons for migrating to Australia, among many other things."
"This text is a timeless classic in the classroom. It has allowed my students to think critically and reflect on the past, the unfolding present, as well as the possibilities of how things may be in the future. I am sure we will continue to discover many other interesting aspects of the Australian way of life during different time periods."
An edited recording of this webinar is now available on the ACTF YouTube page. Teachers, if you are using My Place in the classroom or currently undertaking historical inquiries, you may like to join the 2021 My Place Competition. Entries can be submitted online from 16 August – 17 September.